Without even getting out of the ground, a stalled apartment project in Manchester might soon have its third owner.
The proposed 200-unit Manchester on the James and its vacant 2.28-acre site next to the Lee Bridge are back on the market less than two years after being sold to a North Carolina developer.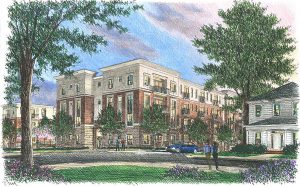 Northwood Raven is trying to sell the property and the city-approved plans through the Washington-based firm Cassidy Turley. The project is at the intersection of Riverside Drive and Cowardin Avenue.
William Harvey, an analyst with Cassidy Turley, said the plans for the project would come with the land. The firm expects the parcel and plans to go for about $3 million, he said.
"The drawings are about 30 to 40 percent completed, so someone would just need to come in and finish it up," he said. "But they've done all the sample layouts, sample floors and sample units, and that would convey with the opportunity."
The project was originally conceived by Crosland, which also developed Rutland Commons in Mechanicsville. Former Crosland principal David Ravin then purchased the property in the summer 2011 for $1 million under a new entity when the project stalled.
Ravin, who is the head of Northwood Ravin, did not return a call for comment by press time.
The city approved the lot for an apartment project in a 2008. The plan includes permission for a 179,215-square-foot building with 200 apartments and a 300-space parking garage.
The property is next to a planned 50-unit low-income apartment project by Atlanta-based Bridgeland Development. The Belle Summit Apartments will be about 72,000 square feet and cost almost $9 million.