Richmond's newest brewery poured its first draft Wednesday.
Strangeways Brewing unveiled its 8,400-square-foot brewery at 2277 Dabney Rd., just off Staples Mill Road. Founder Neil Burton said the brewery has been about four years in the making.
"When something has been in the works that long, you can kind of keep your emotions in check," Burton said. "But we're excited to finally have the doors open."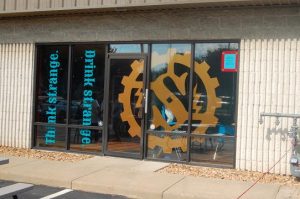 The brewery, which includes two tasting rooms, will operate from 4 to 9 p.m. Wednesday through Friday, 2 to 9 p.m. Saturdays and noon to 5 p.m. Sundays. For now, Strangeways has two flagship beers on tap: a Belgian white ale with coriander and white pepper called Albino Monkey White Ale, and Woodbooger, a Belgian-style brown with chocolate and caramel.
Burton said Strangeways will roll out a new brew within the next two weeks and a fourth one within the next month.
Strangeways beers are available at 26 local bars and restaurants, including Mekong, Station 2, the Blue Goat and Capital Alehouse's three Richmond area locations. Brown Distributing inked a deal to carry Strangeways last month.
Burton said he plans to work with Old Dominion Mobile Canning, a startup portable canning operation, to get Strangeways in cans and on the shelves of more local retailers.
The brewery will eventually have an in-house bottling operation that will be able to churn out 22-ounce bottles, he said.
"Handling the packaging is almost like running another business," Burton said. "That will be a few months down the line. Right now, we're concentrating on drafts."
Burton said Strangeways has two brewers, Mike Hiller and Chris Cawthon, and is up to 18 full- and part-time employees.
Burton is no stranger to the beer industry. He was influential last year in getting a bill through the Virginia General Assembly that allowed brewers to contract with other breweries to produce beer.