As it moves closer to pouring its first pint out of Scott's Addition, Ardent Craft Ales signed on with Brown Distributing, becoming the latest on a long list of local breweries to align with the Villa Park Drive-based distributor. The brewery announced the deal Tuesday afternoon. It settled on Brown after meeting with all three of the major local distributors.
"Loveland [Distributing] and Specialty Beverage both made great cases for themselves, but in the end it was just the strength of Brown's team and their continuing to be a part of the local brewery scene with Taste the Local," Ardent co-founder Paul Karns said, referring to Brown's Taste the Local campaign that promotes Central Virginia beers.
The deal is yet another sign of Brown's dominance locally in signing on new Richmond-area breweries. The boom of the local beer market has spawned eight breweries in recent years that are either now open or in the works. All of them have signed a distribution deal with Brown.
The distributor, which also carries the Anheuser-Busch beers locally, boasts a local portfolio that includes Legend, Hardywood, Strangeways, Center of the Universe, Triple Crossing, Lickinghole, Midnight and Ardent's Scott's Addition neighbor Isley Brewing Co.
Ardent is shooting for an early June open date and will launch with a 15-barrel system at its Leigh Street brewery. Its capacity is roughly the size of Center of the Universe's Ashland brewhouse and will give Ardent enough volume to begin immediately distributing outside its tasting room.
But breweries score higher margins on beer they sell onsite, and Karns said he expects about half of Ardent's sales to come from its own tasting room.
Ardent will be able to begin brewing in about two weeks and will need another six to build up enough inventory to open the tasting-room doors and begin distributing. The brewery will offer two beers initially – a saison that will be one of the team's three flagship beers and a seasonal honey ginger beer. An IPA and a brown-colored brew dubbed Virginia Common will join the saison in the year-round rotation.
Ardent will be available only on draft during the company's first year. Karns said the Virginia Common and saison varieties would be available throughout Richmond during that time, but the IPA will mostly stay limited to the Ardent tasting room because getting the right hops to mass produce the brew has proved difficult.
"[The IPA] will get some limited exposure outside of the taproom as we sort of zero in on the beer that we can consistently produce."
Ardent's cofounders Karns, Kevin O'Leary and Tom Sullivan have been home brewing together since about 2010. Around that time, the trio leased a garage in Church Hill and began scaling a brewing operation, using a half-barrel pilot system to experiment with recipes and begin to test the waters for future expansion.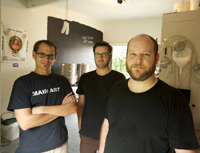 They signed a lease at their 9,000-square-foot brewery at 3200 Leigh St. in September. Crossroads Development, who bought the building in November, is paying for the construction at the location.
By the time Ardent opens its doors, it will be at least the third Richmond brewery to commence operations in the last 12 months.