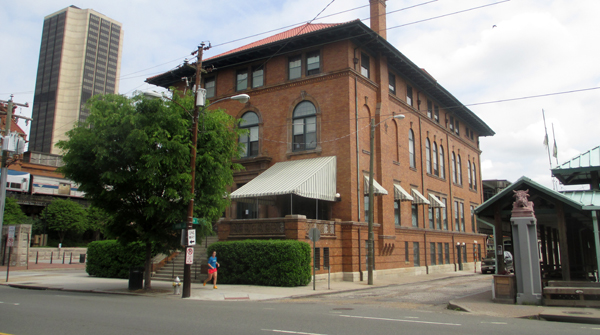 A Charlottesville-based real estate investment company has its eyes trained on its second Richmond acquisition of the year.
B.R.J. Enterprises is under contract to buy the Railroad Y Lofts, a 30-unit apartment building between Main Street Station and the 17th Street Farmers' Market.
The building is owned by Railroad Y LP, an entity tied to developers David White and Louis Salomonsky's Historic Housing. It sits a block from the proposed Shockoe Bottom baseball development.
B.R.J. co-owner Susan Ould said the farmers market, which the city of Richmond plans to revamp, was a major draw in the deal. Ould said she could take or leave the planned baseball stadium.
"I like that fact that a real green market is about to happen, regardless of what happens with the baseball stadium," she said. "I don't really mind what happens either way for (the stadium plan)."
Ould, who owns B.R.J. with husband Dennis, declined to say what they would be paying for Railroad Y. The 26,000-square-foot building and its 0.21-acre plot are listed for $4.75 million and assessed at $3.63 million.
The pending Railroad Y deal follows B.R.J.'s purchase in March of Church Hill's Lava Lofts for $8.27 million.
Railroad Y was built in 1907 and the U.S. Railroad system used it as a boarding place for workers, according to the property's listing. Today it houses 21 one-bedroom apartments, a two-bedroom unit and eight efficiencies. Rooms in the building currently rent from about $1,050 to $1,150 a month, Ould said.
The building also includes the Old City Bar event space fronting Main Street and the Rosie Connolly's Pub and Restaurant on 17th Street.
Salomonsky's team renovated the 107-year-old building last year using state historic tax credits. Ould said she does not have any more immediate upgrades slated for the property.
"There's really nothing to do," she said. "They did a fantastic restoration – I wouldn't even call it a renovation – on that building.
The Oulds will pay cash for the Railroad Y Lofts, Susan Ould said. They'll use proceeds in a 1031 exchange from real estate they previously sold in New York.
B.R.J.'s typical acquisition strike zone includes apartment buildings with between 25 and 50 units. Since selling out of its holdings in the New York market, B.R.J. has bought the two Richmond properties and student housing in Charlottesville.
The Railroad Y deal is expected to close May 30. Chris Chadwick of Marcus & Millichap is representing the seller in the deal. Fulton Hill Properties, the previous owner and current manager of the Lava Lofts, will also manage the Railroad Y lofts once the Oulds finalize their purchase.
Susan Ould said the Railroad Y Lofts was one of the first buildings she looked at in the Richmond market, and B.R.J. was interested in buying it as early as about eight months ago. She thinks it's a sound investment whether or not the mayor's Shockoe Bottom stadium plan succeeds.
"We made our offer based on the building and the fact that we think Shockoe Bottom is a great area," she said. "If the baseball stadium happens, terrific, but I could not be dependent on it."