A local private equity fund known for snatching up distressed real estate has looked outside of Richmond for its latest deal.
Markel | Eagle Partners has invested in a new mixed-use real estate development in Leesburg that's expected to have a price tag of more than $100 million upon completion.
Dubbed Crescent Place, the development is being built on 12.5 acres in downtown Leesburg, around the corner from the town's historic district. It will have 224 residences, including both townhomes and condos, and 30,000 square feet of commercial space.
The development is Markel | Eagle's first project in Northern Virginia and one of the few times the firm has ventured outside of its home market for an investment.
"As we were looking at growing into other markets, we found it very difficult to find what we thought were good opportunities for a player of our size to make wise investments," said Ricky Core, a principal at Markel | Eagle. "When we leave the Central Virginia marketplace we're very careful in selecting our partners."
With Crescent Place, Markel | Eagle is backing Lansdowne Development Group, a company that has experience building town center-type developments in that part of the state.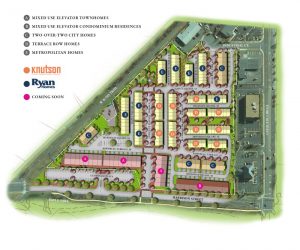 Core said the firm is an equity investor in Crescent Place and used money from its Markel | Eagle Partners Fund II, a $55 million private equity fund it raised through late 2012. It has since been putting that money to work on several other projects around the Richmond market, including two residential developments in the West End and a massive mixed-use project west of Short Pump called GreenGate.
Markel | Eagle's typical strategy has been to find troubled properties, such as stalled subdivisions, and use its funds to get development going again.
The Leesburg property fits that mold. It had sat idle for a decade and languished in court proceedings while its former owner, building products manufacturer Barber & Ross, went through bankruptcy.
"It was stuck in bankruptcy, it was a great distressed deal for us to be looking at," Core said.
Hobie Mitchel, CEO of Lansdowne Development, said the property had an old building on it that has since been demolished to make way for Crescent Place.
"I wouldn't call it a blighted area officially, but it was pretty nasty," Mitchel said of the old building.
Mitchel said he has had his eye on the Barber & Ross property for a long time. Prior to the recession, another developer had it under contract with plans to build more than 300 condos. That idea was scrapped, and Mitchel and Markel | Eagle finally purchased the property in late 2012. Mitchel said he and Markel | Eagle president Bryan Kornblau have known each other for years and had talked about collaborating on a project for some time.
Lansdowne is the lead developer and has broken ground on the site with plans to have model lofts ready at the end of May. It would then look to have occupants move in by the fall.
Two home builders have signed on to the project: Ryan Homes and the Knutson Cos. Middleburg Bank is the lender on the project.
Plans call for 137 town houses, 42 stacked town house units and another 45 units that will sit over top of the retail space. The condos above the retail stretch will be up for sale, not leased.
Mitchel said total development and construction costs will be between $110 million and $120 million.
Core would not say how much money the Markel fund contributed to the project but said Markel | Eagle is the 90 percent equity partner in the development.
Besides helping fund the project, Markel | Eagle is also leaving a personal touch on Crescent Place. Site plans show one of the streets will be named Kornblau Terrace, in honor of Bryan Konblau's late father and longtime local developer Sam Kornblau.