To reach the pinnacle of his extreme hobby, Richmonder Jeff Reynolds is headed to the bottom of the world.
The 50-year old, who spends his day job as head of enforcement for the Virginia Department of Environmental Quality, has one peak left to climb before he can check off the highest summits in each of the seven continents.
And number seven is going to be chilly.
Reynolds and two climbing partners are heading down to Antarctica in November to attempt the 16,050-foot summit at Mount Vinson and to explore other peaks Reynolds says have never seen a boot print.
To prepare, Reynolds' regimen is a combination of strength and cardio exercises at the downtown YMCA to keep up his baseline fitness; a favorite exercise is using dumbbell weights while balancing on a ball. When he's got a strenuous trip planned, he ramps up the workout.
And he spends as much time outdoors as possible, climbing various mountains in Virginia.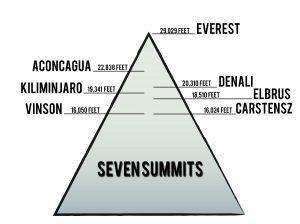 "I like really long, paced treks in the Blue Ridge, overnight in the winter months when the temps are really low," he said. "I also try to time it when storms are coming in."
Then he kicks things up a notch: "Sometimes I'll force malnourishment and dehydrate to add physical and mental stress," he said. "It's powerful on physical, mental and emotional levels."
Antarctica's temperatures are brutal; its "summer" averages around 20 below, with gusty wind thrown in for good measure. Not only is this month-long expedition the most remote of Reynolds' trips, it also presents logistical challenges of having to haul supplies by sled (rather than with help from Sherpas or porters).
Growing up in the flatlands of northwest Illinois, Reynolds says he was hooked on outdoor adventure at the age of 12, when he first saw mountains on a family trip in Colorado.
"The feeling was so intense, I wanted to jump out of the car and run to those mountains and never come back. That feeling has never left me," he said.
He worked his way up in the climbing community, tackling his first of the seven summits, Russia's Mount Elbrus, in 2003.
Reynolds, who received his law degree from Hamline University and his Master of Laws from George Washington University, ended up in Richmond in 2009 to take his job at the DEQ. Before that, he worked in private practice and served in the military, including stints in the Army and Air Force in operations Enduring Freedom, Iraqi Freedom and Joint Forge.
At the DEQ, Reynolds leads a division responsible for oversight and enforcement of all laws, regulations and permits administered by the state agency through six regional offices, including landfills, spills from train wrecks, emissions and the like.
Reynolds says he's confident he has the skills and experience to nail his seventh summit, assuming the weather cooperates. In May 2012, he led an expedition up Everest, supported by local porters.
"Every day is about just managing risk," Reynolds said of Everest.
But he says the most challenging thing on the famous mountain these days is the people, creating long lines over certain passes and attempting to climb without adequate preparation.
"If it were just the mountain, I would feel better," he said.
Reynolds says he has a healthy respect for the mountains and has never been worried during a climb. But on one occasion, a storm in Colorado came up quickly and he was forced to duck into a tiny cave for shelter, unaware of an official search for him underway on the mountain. When the weather broke and he came down, he happened across his family and a relieved ranger.
Reynolds admits this isn't the cheapest hobby.
Organized trips to Mount Vinson price out at nearly $50,000 plus airfare; a commercial summit of Everest can rise to $90,000. Reynolds has sponsors who help absorb the cost and provide him with the latest equipment. He says he keeps his favorite gear in a climate-controlled room in his home near Pony Pasture.
He's also turned his pastime into a side gig. He leads local groups on weekend climbs in the Blue Ridge and does larger trips several times a year through his company S2 Mountaineering.
Much of the company's focus now is on weeklong ascents of Mount Kilimanjaro in Tanzania, where a handful of Richmonders have accompanied Reynolds to the summit in recent years. He says the guiding helps keep him motivated when he's not training for his own adventures, and the extra income helps supplement his own climbing.
"I've had a wonderful, fulfilling climbing career," Reynolds says. "I really like to guide. I don't personally need to take another trip up Mount Kilimanjaro, but every time I go with a group, it's a new discovery."
This story is part of a new feature series called Downtime, focusing on how the businesspeople in Richmond spend their time when they're out of the office. If you or someone you know fits the bill with quirky habits or adventure-filled weekends, please email Lisa Crutchfield at [email protected]