Sharon and Peter Francisco don't often part ways with one of their beloved automobiles.
The longtime Lakeside residents have a stockpile of vintage cars and prefer to add to their fleet rather than thin it out.
But in the early 1970s, they made an exception that steered them toward a collection of  a different sort.
The couple sold an old Ford Thunderbird they'd had in college to scrounge up the funds to buy their first piece of real property – a house in Lakeside.
Decades later, their collection of vehicles and real estate holdings has grown. The high school sweethearts own dozens of old cars – including a Model T, a '49 Dodge D24 Club Coupe, and a DeLorean DMC12.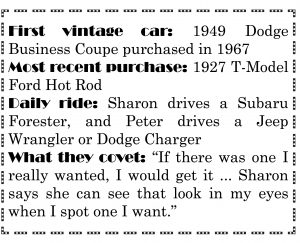 As real estate investors and landlords they own about two dozen properties, mostly commercial spaces around Lakeside, totaling about 100,000 square feet.
And it's along Lakeside Avenue where their business and hobby collide. They keep the vintage cars stored in garages behind some of the many buildings they own along the street, where they also operate a year-round farmer's market.
One of their properties in particular gives them just the right display case for their automobiles.
For years, motorists have been treated to a rotating display of old cars, mannequins, petroliana and period kitsch in the front window of the old Esso station on the 6100 block of Lakeside. The Franciscos bought the building in the '90s and started their tradition of exhibiting their cars in the space in 1997, after they bought a '55 Thunderbird and the seller asked that they show it off in the window as long as he was alive.
The quirky displays (they had a "Christmas Story"-themed exhibit last year) are part of their commitment to Lakeside, where they've also invested in upgrades such as streetlights and banners.
"We want to invest in and give back to the community where we live, and the Esso station and displays are the centerpiece of Lakeside Towne Center," Peter Francisco said.
The Franciscos' roots in the Lakeside area are deep; they grew up and still live nearby, and Peter's family operated the venerable Lakeside Appliance store until selling it in 2003.
Peter cut his teeth on fixer-uppers as a kid, converting bicycles into motorbikes, and says he's learned a lot about old cars by reading. It also helps that he studied mechanical engineering at VCU and had years of working in the family store.
"Being in the appliance business, I've always been around mechanical things," he said. "Cars aren't that different from washing machines: something moves and does something."
The Franciscos usually arrive at a new car buy through some combination of sentimentality and happenstance.
They bought that '55 Thunderbird because it reminded them of that first one they sold in the '70s, and a similar route led them to the '49 Dodge D24 Club Coupe.
"Peter liked it because it was the year of his first car," Sharon Francisco said. "We saw it for sale in Hershey (Pennsylvania), but we didn't buy it. And we kicked ourselves for not buying it, but then it was there the next year. So we thought maybe we were destined to have it."
They bought the car, and were pleasantly surprised to learn that the seller was actor Bruce Willis. They've got a copy of the title with his name on it and still have the Idaho plates on the car.
Other standout autos in the collection they just happened across. There's the DeLorean, a '69 Lotus Europa, a Model T and several T-buckets – hot rods based on the Ford Model T. There's a replica 1957 Thunderbird kitted out as a Battlebird, built to set speed records at Daytona. Some are in near-mint condition; others are modified, such as a British MGA transformed into a MG Cobra with a V-8 engine.
"We used to focus on Fords, but we started to see other cars that interested us, so we branched out," Peter said.
"Now it's pretty much if it has four wheels and an engine, we're interested," Sharon added.
They have seen cars come and go – and come back again.
"I used to have an old 1949 pickup truck that we had at (Lakeside Appliance). We sold it and eventually lost track of it," Peter said. "We were riding around one day and saw it parked – with moss growing on it."
Eventually, the truck found its way home to the Franciscos via a tenant at one of the buildings they own on Lakeside. They fixed it up and occasionally park it at the farmer's market.
The Franciscos' fleet is all in working order, but they don't take the autos out on the road very often. Some don't go fast enough for today's highways. And the dangers of modern parking lots are very real. A 1941 Ford was destroyed when a driver careened into it outside a Lakeside Avenue store.
Running the farmer's market and managing their real estate holdings takes a lot of their time, so these days, they're looking for cars that are already restored. They find many temptations at the annual Antique Automobile Club of America Eastern Division National Fall Meet in Hershey, Pennsylvania, which draws old car aficionados from around the globe every October. It's said to be the largest antique auto show and flea market in the world.
While Peter says he doesn't have a favorite car ("whatever I'm driving that day"), Sharon is partial to a 1930 Model A.
"It goes putt-putt-putt and has an a-ooga horn. There's just no other sound like that!" she said.
They've both loved cars their whole lives, an inherited trait.
"My daddy was a revolving door of cars," Peter said. "He never held onto anything."
And Sharon grew up watching her father and brother tinker with cars; her brother collects antique vehicles, too.
Peter says he buys cars to hold them and hasn't really assessed the value of the collection.
Still, he knows many of the cars have increased in value, such as a 1951 Ford Woody Wagon featuring real wood paneling (currently garnished with a surfboard and water skis tied to the roof). Peter thinks they paid $11,000 or $12,000 for it and its worth has tripled or quadrupled.
"Honestly, I don't buy anything expecting to make money on it," he said. "You don't buy a car for that. That's what real estate is for."
This story is part of a new recurring feature called Downtime, focusing on how businesspeople in Richmond spend their time when they're out of the office. If you or someone you know fits the bill with quirky hobbies or adventure-filled weekends, please email Lisa Crutchfield at [email protected]