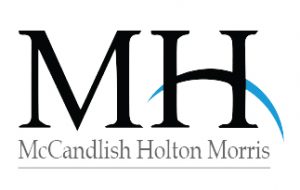 A pair of neighboring downtown law firms has tied the knot, creating a combined operation that will put it in or near the top 10 among its Richmond peers based on local attorney headcount.
McCandlish Holton and Morris & Morris merged on Dec. 1.
The deal results in a firm with 38 attorneys by melding McCandlish Holton's 25 with Morris & Morris' 13 and offices in Richmond, Fairfax and Roanoke. The firm's new name is McCandlish Holton Morris.
Mark Rhoads, director of the combined firms, said through a spokesman that McCandlish began a search to grow after losing a team of attorneys to a local rival. Six attorneys from its healthcare group left for Williams Mullen a few blocks over in February.
Mike Ward, who had been a partner at Morris & Morris and is now a partner at the combined firm, said the merger began to come together this summer. The conversations were struck up by McCandlish attorney Sam Otero, who had previously worked at Morris.
Ward said the two sides saw advantages in bringing Morris' heavy concentration in business litigation with McCandlish's practices that in addition to litigation include corporate, commercial real estate, healthcare and business immigration law.
"We really hit off," Morris said of the merger discussions between the two sides. "It's seemed like a logical thing to do."
Ward said Morris liked the idea of being able to offer its litigation clients more services by having McCandlish's expertise in-house, as well as tapping into McCandlish's offices in Roanoke and Northern Virginia.
Morris & Morris was founded in 1989 by brothers Phil and Jimmy Morris. McCandlish Holton was founded originally in 1982 as Mezullo McCandlish. It became its current incarnation around the turn of the century.
Morris' book of business includes a client roster made up of businesses and insurance companies throughout the state. McCandlish's client list includes businesses, nonprofits, governments and universities, mostly in Virginia.
The Morris attorneys and staff will be moving into McCandlish's office – and they won't have to go far.
McCandlish occupies the entire 21st floor and most of the 20th floor in the Bank of America Center on Main Street. Morris had been directly across the street at 11 S. 12 St. The combined firm will continue to use the 12th Street space for admin and back office operations, Ward said.
With 36 local attorneys, the merger puts the newly combined firm in the top 10 among Richmond law firms, based on a BizSense ranking this summer.
And McCandlish Holton Morris will look to keep moving up those ranks.
"We're always looking for attorneys or practice groups that are looking for a platform to grow," Rhoads said.