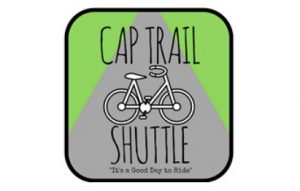 A local startup is looking to give a lift to area cyclists who want to ride the 52-mile Virginia Capital Trail, just not the 52-mile return trip.
Cap Trail Bike Shuttle is set to launch this spring. The transport service for cyclists is the brainchild of Cheyenne Burnham and Alison McGrail, local cyclists who wanted to ride to Jamestown without worrying about pedaling back to Richmond.
"We were on a road trip to Charlottesville last fall, and it just stemmed from a conversation," Burnham said. "Two days later we were on the move to get it started."
The pair secured a 13-passenger Dodge Conversion Van, which will be supplied with snacks, water, phone chargers and other conveniences. The van will pull a 16-foot trailer, custom-made to carry up to 17 bikes. Burnham said the van is being designed by Doug Orleski, the local cartoonist behind RVA Coffee Stain.
The shuttle will have three stops: The downtown trailhead at Dock and Wharf streets, the Charles City Courthouse and Jamestown Settlement. Bookings will be available online.
"We'll have the dates, times, number of seats available, and all that listed," Burnham said. She said the firm plans to operate at least six days a week.
Pricing for the service has yet to be set. Burnham said she hopes to announce those details in coming days.
Burnham and McGrail are privately funding the venture. They did not disclose how much they've invested.
The co-owners are the company's only employees, but Burnham said they'll likely hire another driver or two as needed.
Cap Trail Bike Shuttle is scheduled to launch April 2 with a kickoff party at Triple Crossing Brewing.
Burnham and McGrail join Anne Poarch, a former Wells Fargo financial advisor, as the latest entrepreneurs to capitalize on the trail, which opened last year and is slated for amenities such as benches, rain shelters and fix-it stations. Poarch recently launched Basket & Bike, a guided bike tour along a 14-mile stretch of the trail.