Most days, Jim Theobald is busy representing Richmond's biggest developers and homebuilders in their bids to win approvals for their latest projects. Other days, he's busy playing bass guitar for them.
The chairman of downtown law firm Hirschler Fleischer could be seen last weekend playing oldies and classic rock standards with his band The Usual Suspects on the stage at Homearama, the annual showcase of the Home Building Association of Richmond.
The real estate development attorney has been playing with the band since the late 1980s, when he started it with guitarist John Walk, a partner at Hirschler Fleischer and Theobald's next-door neighbor. Rounding out the group on drums is Doug Jones, a managing director with accounting and finance consulting firm Fahrenheit Group.
When Walk learned that his neighbor and law colleague played bass in grade school, Theobald arrived home one day to find a bass and an amp placed on his porch. With a revolving lineup that went from four to three over time, the pair has been playing together ever since.
Initially playing venues such as the former Flood Zone, Theobald said the band – known then by an edgier name that can't be repeated here – these days performs only a handful of shows a year. They're typically for charity events for such groups as March of Dimes and the Virginia Home for Boys & Girls – and for industry events such as Homearama and others put on by the Greater Richmond Association for Commercial Real Estate.
"The most fun is playing at a place like that and have somebody walk up to the stage with this quizzical look, and sometimes they'll go: 'I know I know you, but.' It's the same teaching yoga."
You read that right: In addition to his band gigs, Theobald is also a certified yoga instructor – a pursuit he picked up at the encouragement of a paralegal who gave him a gift certificate for a class.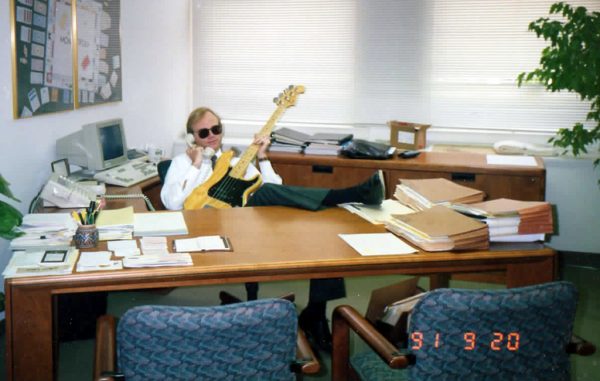 "She said I needed every tool in the box to deal with stress," said Theobald, who leads classes two Saturdays a month at Glenmore Yoga & Wellness Center in western Henrico County. Previously, he led groups for veterans dealing with post-traumatic stress disorder.
"I really enjoyed it," he said. "It's just a little way to give back and provide a little calming tool to folks."
That sense of calm he gets from yoga is the same he gets from playing and singing with The Usual Suspects.
"It relieves stress," he said of the band. "It's primal scream therapy. And it's really like an alter ego. You just feel like a different person and a little freer somehow. Now, John and I are working up what we call our wine and cheese set."
You read that right: wine and cheese, befitting another of Theobald's side gigs, Valley Road Vineyards, the winery he and his wife and four other couples founded in Nelson County, just up and across the street from Blue Mountain Brewery.
Theobald said the group, which includes Paul Kreckman formerly of Highwoods Properties, Bruce Kay of Markel Corp., former LeClairRyan attorney Stan Joynes and attorney Bobby Edwards, came up with the idea for the vineyard a couple years ago, purchasing a property that was previously a produce co-op.
"We decided if we went belly-up on the winery, we'd made a good real estate play and we can sell it for more than we had in it and come out okay," Theobald laughed. "But it's not a group that likes losing money. It's not a hobby."
Originally from Ohio, Theobald attended undergrad at the College of William & Mary and received his law degree from the Cleveland Marshall College of Law. He and Walk joined Hirschler Fleischer the same year, in 1980.
He was named president of the firm in 1992 and has served as chairman since 2004.
"It's a fun career, and you can go look at the fruits of your labor and probably 98 out of 100 times be proud of what you did," Theobald said.
He said he likes real estate law because "it's a very constructive application of the law."
"You can see it, you can touch it, you can kick it, and at the beginning of (a hearing), a piece of ground could be worth $40,000 an acre and when I finish it could be worth $2 million an acre. I don't know of any other type of law that can add value so dramatically."
While his role as chairman allows him to set his own workload and hours, and while his various interests continue to take him beyond the boardrooms and courtrooms that dominate his work, Theobald said he's not yet ready to call an end to his day job anytime soon.
"I'm 65; I've been (at Hirschler Fleischer) for 37 years. I can't see walking out the door," he said. "I have a luxury here of being able to drop back to whatever level I choose, and I can see a transition over the next few years perhaps. But I'm not really ready to walk out the door."
Editor's note: This is the latest entry in our Downtime series, which focuses on business people's pursuits outside the office. If you, a coworker or someone you know around town has an exciting or unique way of passing time off the clock, drop us a line at [email protected]. For previous stories from our ongoing Downtime series, click here.