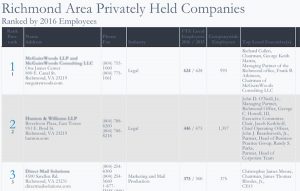 With 2017 drawing to a close, BizSense is hard at work compiling its biggest and most popular list of the year: the ranking of Richmond's privately held companies.
This monster list, featuring hundreds of local businesses with thousands of combined employees, will serve as a milepost for where things stand at the end of the year.
It's also a directory for region's business community and a tool for leads, intel and data for 2018.
We encourage you to make sure your firm is on the list and want to help ensure the process is as easy as possible.
If your company already has participated in one of our lists this year, we'll use much of the information you previously entered and our researcher will check in shortly to update vital figures for the rankings, in case something has changed since we last heard from you.
And if you haven't been part of a previous list and want to be included in this one, simply follow this link to fill out the survey.
If you have any questions or want to submit updated info, please email our researcher Michelle Pearson at [email protected] or call (804) 592-6365.
Here's a snippet of last year's private companies list. As you'll see, it's ranked by total local employees and includes firms with hundreds of staff and one-man/woman shops.
The deadline for submissions is Dec. 29. The list will be published Jan. 1.
Like our other lists, this one is available only to subscribers of BizSense Pro, our premium data service.
Annual subscriptions are available for individual and bulk users, and we also offer a day pass, allowing one-time access to a single list. Please email our research editor Linda Dunham with any questions about subscriptions at [email protected].