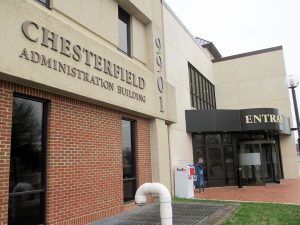 Chesterfield
The draft Midlothian Community Special Area Plan is being presented for review at a series of meetings this month. The draft plan can be viewed here and is intended to guide growth in and around the Village of Midlothian corridor.
Midlothian District Supervisor Leslie Haley hosts a breakfast meeting from 7:30 to 9 a.m. Monday at Great Harvest Bread Co., 13541 Midlothian Turnpike. Informational meetings will be held at 6:30 p.m. June 24 at Winfree Memorial Baptist Church and 1p.m. June 25 at First Baptist Church of Midlothian.
The Planning Commission meets at 6 p.m. Tuesday. Business includes a rezoning and conditional-use permit request for a Carvana distribution facility on a 183-acre site at 13504-15100 Woods Edge Road near Chester.
John Netto requests rezoning of 1 acre of a 2-acre site at 5941 Willowbranch Drive and 7239 Ironbridge Road to permit an adult day care and conditional-use planned development. Rebkee Partners Belmont LLC seeks to permit an auto repair business at The Shoppes at Westchester shopping center at Midlothian Turnpike and Watkins Centre Parkway. Full commission agenda here.
Hanover
The Planning Commission meets at 7 p.m. Thursday Business includes a public hearing on a revised version of The Lake District at Glen Allen mixed-use development, for which the commission recommended denial last year. Sandy Valley LLC seeks to rezone 70 acres along Sandy Valley Road near Little Florida Road to permit an 11-lot subdivision. Full agenda here.
Henrico
The county kicked off construction of a cricket field at Deep Run Park with a ground-breaking ceremony June 8. The $648,900 project will renovate three existing multipurpose fields to create a cricket field that includes a clay pitch and meets the standards of the International Cricket Council.
The 7-acre project will install a new natural grass surface and an irrigation system. It also will upgrade walkways and paths; install cricket batting cages; provide grassy, banked seating; and include storm water drainage and other improvements. Supervisors awarded a contract in May to Sandston-based Enviroscape. Construction is expected to be finished in September.
Richmond
The Planning Commission meets at 1:30 p.m. Monday. Business includes a conceptual plan review for pedestrian, bicycle and vehicular circulation and connectivity improvements spanning Oliver Hill Way and North 18th Street between East Grace Street and Balding Street, and the intersections and tangential street of Mosby Street at Venable and O streets.
Items on the consent agenda include preliminary subdivision approval for 18 townhomes planned by CaryShields Mews LLC at the northwest corner of Cary Street and Shields Avenue. A rezoning to TOD-1 transit-oriented nodal district is proposed for 13 parcels comprising a surface parking lot at East Canal and South First streets. Full agenda here.
City Council's Finance and Economic Development Standing Committee meets at 1 p.m. Thursday. Business includes Councilwoman Kim Gray's proposed real estate tax-deferral program for any owner whose real estate tax increases 110 percent or more over the previous tax year. Other items include a proposed city code amendment setting a fee schedule for temporary use of Main Street Station's head house and train shed. Full agenda here.
The Land Use, Housing and Transportation Standing Committee meets at 1 p.m. Tuesday. Business includes certifying completion of Phase I and Phase 2A of the Church Hill North development. Full agenda here.
Events recognizing the renaming of Arthur Ashe Boulevard will be held June 20-22. An official sign unveiling will be held from 11 a.m. to 12:30 p.m. Saturday at Virginia Museum of History & Culture. A full schedule of events and more info are available here.
The city held a ribbon-cutting May 30 for Richmond Emergency Communications Center's new 911 Training Center at 3516 N. Hopkins Road. Construction began in September 2017 and was completed in January 2019. The $2.8 million training center adds 4,300 square feet to the existing 15,000-square-foot building that opened in 2000. It was designed by Hening Vest Covey Chenault in 2015 and constructed by Brooks & Co., with additional electrical design by Dewberry.