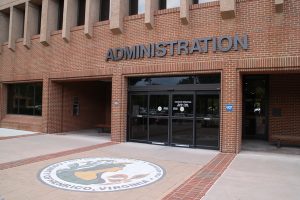 Airport commission
The Capital Region Airport Commission meets at 8 a.m. Tuesday. Business includes a 20-year lease agreement with Sheetz for a 5.8-acre property. The commission meets in the first-floor conference room at Richmond International Airport.
Chesterfield
Supervisors meet 6p.m. Wednesday in regular session. Business includes awarding a $42 million construction contract with Branscome Inc. for the Route 10 widening project and a $2.2 million contract with Blakemore Construction Co. for improvements to the Matoaca Road and Hickory Road intersection. Full agenda here.
A groundbreaking ceremony for the Baxter Perkinson Center for the Arts will be held at 10 a.m. Monday at Chester Village Green, 11801 Center St. The 23,000-square-foot facility will include a 350-seat theater, an art gallery, classroom, multipurpose room and performance patio.
The draft Midlothian Community Special Area Plan is being presented for review at a series of meetings this month. The draft plan can be viewed here and is intended to guide growth in and around the Village of Midlothian corridor. Informational meetings will be held at 6 p.m. Monday at Winfree Memorial Baptist Church and 1 p.m. Tuesday at First Baptist Church of Midlothian.
Goochland
The Planning Commission meets at 6:30 p.m. Thursday. Business includes a request from Capital One to permit a seven-story, 1,800-space structured parking deck at 15030 Capital One Drive. Full agenda here.
Hanover
Supervisors meet at 3 p.m. Wednesday. Business includes appointment of School Board members for the Beaverdam and Henry magisterial districts. Full agenda here.
Henrico
Supervisors meet at 7 p.m. Tuesday. Business includes approvals of development plans for replacements of Highland Springs and J.R. Tucker high schools. Full agenda here.
The Planning Commission meets at 9 a.m. Wednesday to review plans of development. An agenda was not posted by Friday afternoon.
Richmond
City Council meets at 6 p.m. Monday. Business includes a rezoning to TOD-1 (transit-oriented nodal district) for 13 parcels comprising a surface parking lot at East Canal and South First streets, certifying completion of Phase I and Phase 2A of the Church Hill North development, and amending city code to set a fee schedule for temporary use of Main Street Station's head house and train shed. Agenda available here.