A Richmond-based bank is officially playing with the big boys.
Atlantic Union Bank has broken into the top four for deposit market share in the Richmond region, according to FDIC rankings released this month.
It's the first locally based bank to break into the top four in recent memory, as Bank of America, Wells Fargo, BB&T, SunTrust and their predecessors have dominated that echelon for well over a decade.
Atlantic Union took over the fourth spot by leapfrogging BB&T, thanks to a $290 million increase in its local deposits over the last year, bringing it to a total of $3.22 billion across its 28 area branches as of June 30.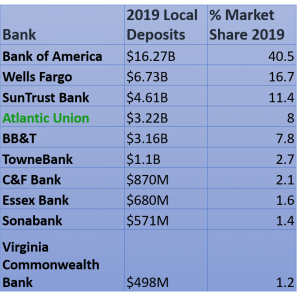 That gives it a share of 8 percent of the region's total of $40.15 billion in deposits spread across 26 institutions with a combined 301 branches. The region had a total of $37.7 billion in deposits at the same time last year.
Holding onto the top slot by a long shot was Bank of America, which controlled $16.27 billion, or 40 percent of the region's deposits in its 22 local branches as of June 30.
Wells Fargo remained in second place, though its market share fell for a second consecutive year. The West Coast giant reported a decline of $84 million in local deposits from the previous year, falling to $6.73 billion across 56 branches. That amounts to 16.7 percent of the regional total.
SunTrust held firm in the third spot with $4.61 billion and 11.4 percent of the market. That's up $120 million from last year. The Atlanta-based bank has 35 branches in the area.
Winston-Salem, North Carolina-based BB&T fell into the fifth slot due in part to its local deposits remaining basically flat over the last 12 months at $3.16 billion across 36 branches.
The super-regional bank is in the midst of a merger with SunTrust, a deal which not only is expected to lead to branch and deposit consolidation around the state, but also could put it behind only Bank of America for Richmond-area market share. The two banks had a combined $7.7 billion in local deposits, which would put it ahead of Wells Fargo in the second spot in the rankings by around $1 billion, based on current levels.
John Asbury, Atlantic Union's CEO, said the SunTrust-BB&T deal also would further cement Atlantic Union's spot in the top four by eliminating a major player.
"I will be the first to admit it wasn't lost on me that we had the potential to eclipse BB&T at some point," Asbury said, adding that it happened faster than he expected.
He said the bank's passing of BB&T is a validation of its efforts to continue to chip away at the bigger banks.
"We were delighted to see the proof point of what we already knew, which is the brand continues to gain momentum and traction," Asbury said.
Big leap for TowneBank
Atlantic Union's nearest local rival in market share is TowneBank, which took a notable leap over the last year.
The bank held $1.1 billion in local deposits in nine branches as of June 30, marking a $241 million increase from last year and the first time the bank eclipsed $1 billion in local deposits since buying its way into the Richmond market in 2015. That gave it a 2.7 percent share.
Others with noticeable movement over the last 12 months include Henrico-based Essex Bank, which added $71 million in deposits to reach $680 million across its 12 local branches.
Henrico-based Sonabank's deposits declined by $274 million, from $846 million last year to $571 million.
Another sizable jump was seen at Chesapeake Bank, the Kilmarnock-based bank with three branches in the area. Its deposits jumped $40 million to $76.82 million in the last year.
In a continuation from recent years, the total number of bank branches operating in the region remained on the decline, reaching 302 as of June 30. That's down from 317 last year and was led by the closures of three Wells Fargo branches and four SunTrust locations.
And there were two fewer banks on the list this year, a result of the elimination of Access National Bank being absorbed by Atlantic Union, and First Tennessee Bank exiting the Richmond market altogether.
Editor's Note: The market share percentages used in this report did not take into account the deposits held in Richmond by Capital One Bank, which has no major branch operations in the area but is technically headquartered here, and, on paper, keeps its $77 billion in deposits here. BizSense adjusted the percentages for only those banks with a legitimate retail presence in the market.