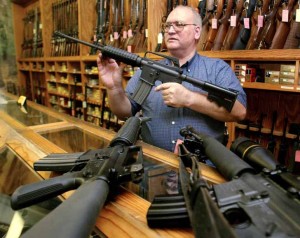 Fears that an Obama presidency will place tighter restrictions on gun ownership have boosted sales at local gun stores, according to Richmond area firearm dealers.
Almost all of the shops BizSense called said they saw increased sales leading up to Election Day.
Workers at DeGoff's Guns in Mechanicsville and Green Top Sporting Goods in Glen Allen also reported sizeable sales bumps over the past couple weeks, but both declined to give specific figures. Sales at Bob Moates Sports Shop in Midlothian are up 15 percent compared with last year, according to a report by WTVR Channel 6.
Dwayne Lewis of Dominion Shooting Range on the South Side wouldn't give an exact percentage either but said sales were definitely up from last year.
Lewis also said attendance at the concealed carry class he teaches increased over the past few months. Since summer, permit seekers have made advance reservations to attend, filling each of the four monthly classes to capacity. People seeking a concealed carry permit in Virginia are required to take a training class.
"I don't think it's a matter of them coming to take people's guns away," Lewis said. "What they are going to do is tax them out of an existence where people cannot afford to buy firearms."
Another factor driving the sales increase: renewed fears of crime and home invasions. Because of the flailing economy, some people are more worried that they might become a target for burglars and thieves.
"Most of the people taking a concealed carry class are afraid for their lives," Lewis said.
A couple of shops reported that their biggest sellers have been military-style utility rifles, which became available again after the federal assault weapons ban expired in 2004. Gun shop workers said many customers expect Obama to lead an effort to reinstate the ban.
Purchases of firearms nationwide have risen 8 to 10 percent this year, according to the Washington Post.