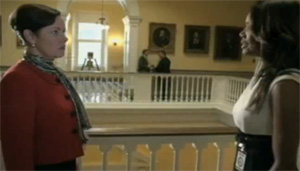 The Body Politic, the Richmond-filmed pilot that failed to land a spot on the CW's fall schedule, was among several other Beltway dramas to get the thumbs down from major networks.
Networks are concerned a new political series will never measure up to The West Wing, according to a New York Times editorial.
From the article:

"Maybe the collective concern is that they'll never be able to come up with a show that will rival or surpass the sensibility of 'The West Wing,' " said Shari Anne Brill, a senior vice president at the media agency Carat.
The election of President Barack Obama renewed Hollywood's interest in producing D.C.-based series, but oddly enough not one green-lighted any such show for next season.
The NYT article delves deeper on what that meant for Body Politic:
"Body Politic," for instance, originated as a show for ABC about three years ago. At that time it was a more cynical look at the corridors of power, and ABC passed on the project. Mr. Horton said CW approached him a few days after Mr. Obama's inauguration and asked him to rework the drama to "reflect the times."
In the new script the characters were more hopeful about making a difference. But CW had only a few holes in its schedule, and it favored a "Melrose Place" remake and shows about vampires and modeling instead.
Despite the setback, producer Peter Horton told the NYT they are still trying to drum up interest for The Body Politic from other networks, which means there is still a chance film crews may descend yet again.
Previously on BizSense: Network passes on Richmond-filmed drama.