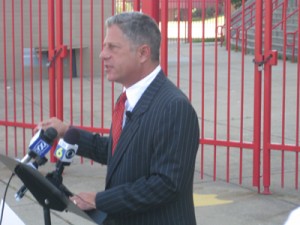 As soon as it seems dead in the water, the baseball debate in Richmond keeps coming back.
Charlie Diradour extended his hand in peace today to those in the opposite dugout at a news conference he called.
Connecticut, the giant Indian sculpture, looked down over the scene, a thick layer of pollen dusted over its head and shoulders.
"The arguments are over with," Diradour said to a small audience of reporters gathered in front of the Diamond this morning.
Diradour was an outspoken critic of the downtown stadium plan recently dropped by Highwoods Properties. He founded his own website, BaseballontheBoulevard.com, as an advocacy platform for bringing baseball back to the stadium abandoned last year by the Richmond Braves. Diradour also owns a development company, Lion's Paw Development, that is active primarily in the Fan District.
Today he announced he was shutting down the Baseball on the Boulevard site and launching Friends of Richmond Baseball to take its place.
"What I want to do is bring both universes together," Diradour said.
He invited corporations to post their logo on the site to show support of bringing an Eastern League team to Richmond. He also announced he was shutting down his Facebook group and replacing it with Friends of Richmond Baseball, inviting supporters of the Shockoe Center plan to join as well.
Diradour made it clear he still was personally in support of redeveloping the Diamond, in particular a plan by Maryland-based Opening Day Partners owned by Peter Kirk for $28 million. The company has developed as many as 14 ballparks along the East Coast.
"Peter Kirk sent a plan to the administration," Diradour said. "I call on the administration to at least call Peter Kirk."
But that plan could have some competition.
The Times-Dispatch reported today that  the Reynolds Packaging Group is pitching their property on the south bank of the James River, directly across from downtown, as a  possible site for a new stadium.
The T-D reports that a Reynolds executive "pointed out the property" to Mayor Dwight Jones and other city leaders as a good location for a stadium. Real estate firm CB Richard Ellis is marketing the sale of the 18-acre property.
City officials said no one has proposed to them an official plan to build a stadium at that location.