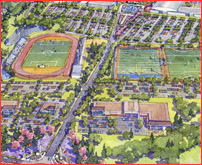 Each time Steve Burton talks about SportsQuest, his plan sounds more ambitious.
It has been his dream for more than seven years to build the Mecca of sports facilities – complete with turf soccer fields, an indoor bicycle track, a 5,000-seat arena, minor league teams, swimming facilities and more – devoted to every level of competition and training.
And as he gets closer to breaking ground on the 250-acre Chesterfield County project, his plan is getting even bolder, with underwater cameras to film swim meets and broadcast them over the Internet, and family entertainment venues.
"People will come to SportsQuest for a tournament, and while they are here, they will have a membership," he said during a recent interview in the Boulders office park, where he has set up shop inside the offices of Timmons Engineering. "Every night there will be a Bonnie Raitt concert or a chili cook-off."
His voice rises a few notes and his smile broadens.
"The Frisbee golf association reached out to us, and we can put holes off the playing fields. It will be a pretty fun thing."
But as Burton's enthusiasm and concept have grown, so have the project's price tag and the skepticism of the local business community, which wonders how Burton can pull off a facility that has no real comparable model and that relies on so heavily on financing during a severe recession.
Business owners in similar industries also wonder where he is getting his figures, such as the 10,000 members Burton says SportsQuest already has. (That figure, Burton said, is based on participants at current facilities that might be partners with SportsQuest, such as the two ice skating rinks and RISE, an indoor sports training warehouse adjacent to the future SportsQuest campus.)
Of course, there is no guarantee that athletes at other facilities will join SportsQuest. And, at times, Burton has stretched the truth.
For example, a news release on his website carried this headline: "SportsQuest Gets $15 Million More in Federal Stimulus Funds."
That's not quite true. Chesterfield County awarded SportsQuest the right to sell tax-exempt bonds on the open market. They are not government bonds, nor do they carry any government guarantee, according to Chesterfield officials. And they have not been sold.
After an inquiry from BizSense, the headline was changed to: "SportsQuest is allocated another $15 million in Federal Stimulus Bonds."