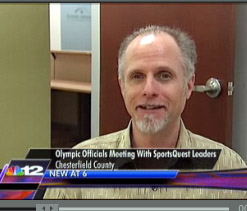 'Steve is not a detail guy'
Burton is not one to shy away from risk. One of his hobbies is speed skating, and he swooshes around the ice rink as fast as possible.
He's also comfortable with big business risks. When he started a sleep diagnostic monitoring device company in the late 1980s, he used 40 credit cards, according to an interview in the Times-Dispatch that ran in October. "I'd take cash advances, pay the $10 minimum and call the bank to double the cash line," he told reporter Wesley Hester.
Although that gamble is said to have paid off, not every investment turned out so dreamily. Ion Healthcare, a company Burton started in 2005, lost investors more than $8 million, according to several former directors. One of those investors was Richmond-based Harbert Venture Partners, which lost more than $2 million. Harbert declined to comment for this story. Burton said that he invested $1.5 million in the company and that all is not over for Ion, but he declined to comment further, citing a nondisclosure agreement.
Ion supplied patients with home diagnostic sleep testing as well as treatments for sleep apnea, allowing them to get treatment more cheaply than at outpatient sleep centers. The company had patients in Richmond and at an office in New Jersey.
The company never reached profitability, said former chief executive Mike Rowe, who left in June 2009 after two and a half years at the helm. Rowe purchased the Richmond assets from Ion and now provides treatment to those patients.
"Ion was basically a great idea before its time," Rowe said, adding that although the concept was innovative and had tremendous growth potential, the company ran into practical roadblocks.
For one thing, physicians at sleep centers would not cost themselves patients by referring them to Ion. And Ion's devices were not approved for Medicare reimbursement, which shut off a major market. Changing Medicare regulations involved a lot of red tape, Rowe said.
"Steve is not a detail guy," Rowe said. "He's not an operator. He's a great visionary, but he wants to be an operator and believes he is."
"He's got big dreams. And the way Ion was laid out was phenomenal, but not practical."
Burton said that he was limited in what he could say but that the company needed more funding to keep growing: "There was a group of people that planed to take it to the finish line and couldn't get there. And so a new group has taken it as a value and will take it to the finish line. It's not uncommon for companies to transition and grow as they mature."