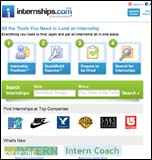 A Richmond website that aims to be the Monster.com of college internships was sold to a California firm for an undisclosed sum.
At the end of 2009, Richmond entrepreneur Mason Gates sold Internships.com to Arc International Group.
Three months ago, the company had three employees. Now there are 50 employees working on the project including Gates, who flies to California every month to meet with the new directors.
"I'm helping with my market knowledge with the folks that have deep technology and social media knowledge," Gates said.
Gates had been working in the human resources field for more than a decade.
"It started with a company called InternDirect, which grew out of four years I spent dabbling with Radford University's career center figuring out internship programs," Gates said. Gates is a Radford alum.
Gates said that 18 months ago he wrote a new business plan and intended to raise more capital or find a buyer. He said he turned down several offers.
"The folks I've ended up with reached out to me, and they came to the same conclusions about the Internship.com model that I had."
Gates said he and his investment bank – the local firm Transact Capital Partners – started working on the deal in March. It was finalized in October.
Internships.com makes money by charging subscription fees for employers and for students at college career centers. The key is the database of internships, Gates said.
About 400 colleges and universities use the site, Gates said.
Gates said the business model has recently changed. Now people can see many of the listings for free but the site is adding premium offerings, which will cost extra.
Arc International Group declined to comment for this story.
Aaron Kremer is the BizSense editor. Please send news tips to [email protected]