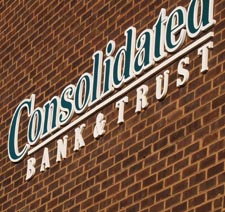 A Richmond bank with roots going back to 1903 has been tapped by regulators to deal with its worsening loan portfolio.
Consolidated Bank and Trust, headquartered downtown on First and Marshall streets, became the fourth local bank to have regulators step in and make the bank party to an agreement that aims to correct a souring financial situation. It joins Bank of Virginia, Central Virginia Bank and Virginia Business Bank.
Consolidated's history traces back to Maggie L. Walker, the nation's first female and first African American female bank president.
It ran into some hard times in 2005 and almost closed, only to be saved by joining Abigail Adams National Bancorp. Adams was then acquired last year by Premier Financial Bancorp out of West Virginia, a deal that left the future of the Consolidated name in jeopardy. (You can read more about the deal from last August here. )
At the time of those deals, Consolidated was still considered the oldest continually African American-run financial institution in America.
Consolidated's biggest issue is millions in poorly performing loans, those either past due or in non-accrual status. According to its latest reports filed with the FDIC, the $76 million bank had $8 million in bad loans and only about $7 million in capital.
The troubled loans consisted mostly of commercial real estate, land development and construction loans, with a few on the residential side. The $8 million total has risen from $6.4 million at the end of last year. But that was an improvement from $8.9 million at the end of the first quarter.
From a profit perspective, Consolidated's recent performance has been decent. It reported second quarter net income of $459,000 after a $245,000 first quarter, and it was profitable at the end of 2009.
The size of its total loan portfolio has shrunk in recent quarters to $48 million. That's down $2 million since the end of 2009.
Its total deposit base has also shrunk by $2 million since December to $68 million.
Darius Johnson, Consolidated's president, declined to answer any questions by phone Friday and did not respond to an email from Richmond BizSense.
The good news for Consolidated is that it is backed by a profitable $1 billion holding company. Premier is the holding company of about nine banks across Kentucky, West Virginia, Ohio and Washington.
Premier's subsidiary banks in total reported $70 million in non-performing assets at the end of the first quarter, according to its quarterly SEC filing.
That number has increased significantly since Premier acquired Adams and Consolidated, the company said.
"The significant level of non-accrual loans and OREO [foreclosed properties] is due to the non-performing assets that came with the acquisition of Abigail Adams and its two subsidiary banks," Premier reported in a recent SEC filing.
Consolidated has 23 employees total at its branches in downtown Richmond and in Hampton.
The agreement it has entered into with the Federal Reserve Bank of Richmond and the State Corporation Commission Bureau of Financial Institutions is the result of an examination conducted by the Bureau late last year. The agreement will force the bank to meet certain requirements under certain deadlines, mostly dealing with improving oversight of lending, reporting and disposing of troubled assets and maintaining a responsible level of capital.
Premier is temporarily barred from declaring dividends without approval from regulators.
Michael Schwartz covers banking for BizSense. Please send news tips to [email protected].