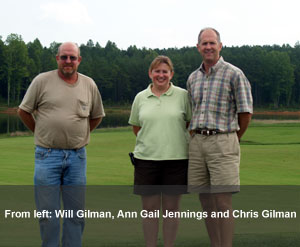 Nineteen down, 119 to go.
That's how many members Chris Gilman wants to recruit to the Federal Club, the struggling upscale golf club in Hanover County he and his family bought three months ago. (You can read more about Gilman in an RBS Q&A here.)
The Federal Club was built in the go-go years of the past decade and never made money before going bankrupt a year ago.
Now Gilman is fine-tuning the course and kicking his marketing plan up a notch as he tries to get the number of members up to 250 as soon as possible. The club has 131 members, Gilman said, including 19 who joined in September.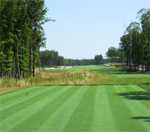 New members start out as potential members, and that means they need to see the club. ??So Gilman is trying to get Richmonders in to see the bent-grass course. On Nov. 13, the Federal Club is hosting a grand reopening, including a golf tournament and oyster roast for $95 per person.
Gilman has also set a date by which he hopes the club will again be fully private: September 2012. The course currently lets non-members pay green fees to play.That was a strategy the previous owners added in hopes of stabilizing the revenue.
But before a members-only club, Gilman needs more members.
"I think the loss of membership has run its course," Gilman said.
"We lost a dozen or so that left due to frustrations over the old ownership in bankruptcy," he said, "and we lost another half dozen who were upset we wouldn't promise them a new clubhouse."
The competition is fierce: The Federal Club is not the only course that slashed initiation fees and dues. (You can read more about that in an RBS story here.)
New members will want a top-notch club, Gilman said.
Since taking possession of the club three months ago, Gilman spent $500,000 on maintenance equipment and bought 40 new Yamaha golf carts with club washers, a touch Gilman said golfers should like.
He's methodically fixing the bunkers (at $10,000 a month) and reseeding the driving range. And he's hired a PGA pro for teaching.
"We're focused on improving the quality of our product by doing maintenance and renovations that [the previous owners] couldn't afford to do during bankruptcy," Gilman said. "The quality of the product will help drive the sale of new memberships," he said.
Aaron Kremer is the BizSense editor. Please send news tips to [email protected]