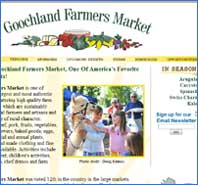 Drama doesn't fade quickly in farm country, especially when it involves a beloved market.
A faction of unhappy supporters of the Goochland Farmers Market has splintered off and plans to hold a meeting to assess the future of a farming advocacy group.
A Louisa County farmer is leading the group and passing around notice of a meeting to take place Saturday to discuss the future of the Center for Rural Culture and its Goochland market. The Center provides educational programs for farmers and operates on a $100,000 annual budget.
The gathering is in response to a feud between CRC's board and its embattled executive director, Lisa Dearden.
"There are a lot of people that have been asking questions, and they're not getting any answers," Dearden said. "So I guess they're formulating some kind of a plan."
Dearden said she has had no involvement in organizing the gathering.
"I haven't had anything to do with planning the meeting," she said. "I'm going to go. I don't really know what I'm going to say."
The controversy began this month when Dearden sent a letter to thousands of supporters detailing how she was continuously denied access to CRC's books by members of the board. At the time, she demanded an independent audit to clear up a $30,000 discrepancy and called for the resignations of the board's current and past president and treasurer.
(You can read the original story here.)
Two days later, Dearden was ousted. The board eventually issued a response to Dearden's allegations, saying it was investigating the situation and would send its financial records to a CPA for resolution of the matter.
CRC's board of directors was also invited to attend Saturday's impromptu gathering, but refused and quickly responded to the uprising.
"Because this is not an official function of the Center for Rural Culture, the Board of Directors will not be in attendance," the board said Wednesday in a prepared statement regarding the community meeting.
(See a copy of the flier here.)
Dearden said she's still not exactly sure of her status at the organization. Her letter stated she would resign Jan. 31 if her demands were not met. But the board called her bluff on Jan. 7 and told her they accept her resignation immediately.
"They changed the locks on the office," Dearden said.  "I don't know what that means in their mind. To me that means I've been suspended from my work."
Dearden said that one of CRC's two staff members has since resigned a position that was funded by a grant.
Then yesterday, CRC's board issued another statement, this time saying it has hired the accounting firm Keiter Stephens to clear up discrepancies between the financial records of CRC with Dearden's personal ledger. The board said Dearden has until close of business today to schedule a meeting with the accountant.
"Please reserve judgment until all facts are known," the board said at the end of the statement.
Adding fuel to the fire, a letter written by a CRC co-founder went out on Jan. 18, denouncing Dearden's actions and emphasizing support for the board.
"I was disappointed to see the slanderous accusations against the CRC Board of Directors thrown about so casually by the CRC executive director, Lisa Dearden," wrote Katie Flanagan, who lists herself as a co-founder of CRC.
See the full letter here.
"I urge you all to recognize that one person is not the organization," Flannagan said in the letter. "It is my opinion that the executive director has done more damage to the CRC, and its mission, by her reckless behavior."
Dearden said she has hired an attorney. She also maintains that she doesn't have a beef with the entire board, just certain members she holds responsible for the alleged financial irregularities.
"I really appreciate what all of the board members have done," she said. "But business is business."
Michael Schwartz is a BizSense reporter. Please send news tips to [email protected]