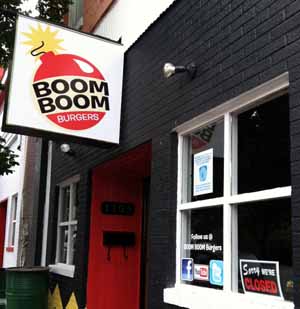 One of Shockoe Bottom's newest restaurants has closed after only three months in business, and the owner says the deteriorating neighborhood is to blame, according a report published last week.
BizSense first broke the story about the new Shockoe Bottom shop Boom Boom Burgers in December. Owner Joshua Eftekhari-Asl's concept was a higher-end burger that used local ingredients.
But last week, Richmond.com reported that Boom Boom had closed, and it published an emotional letter from Eftekhari-Asl, who said this isn't the end of the Boom Boom concept, just the end of it in what he called an economically depressed Shockoe Bottom.
"We were edged out by macro-level pressures happening in Shockoe Bottom," Eftekhari-Asl said in the letter, according to the Richmond.com report.
But Eftekhari-Asl wasn't done there.
"The truth is, retail businesses that are really thriving are nightclubs and bars catering to the lower class urban population of Richmond," Eftekhari-Asl said in the published letter. "This proved to be a very difficult and impossible barrier for us to overcome."
He went on to say more about the demographics of customers frequenting the Bottom and why his concept wasn't drawing them in.
"We were a new business with some pretty progressive ideas that opened up in an area that is undergoing a consumer demographic shift. A sort of de-gentrification, if you will," Eftekhari-Asl said. "No restaurant can stop that, especially a little burger shop like ours."
That letter apparently caused enough of a reaction to cause him to write another to apologize and further explain his remarks.
David Napier, head of the Shockoe Bottom Neighborhood Association, said he is well aware of the Boom Boom owner's comments.
"We hate to lose a business," said Napier. "But the area already was what it was when he came down there. His comments were that his menu was not for that crowd, and I thought it was a poor choice of words."
Napier conceded that the Bottom faces some challenges.
"I know some of the smaller restaurants don't like the direction the neighborhood is going, and some of the residents don't, either. And it is tough on small restaurants and independent owners because the Bottom has turned into more of a large club district.
"I hope it doesn't turn into an all-club district. But it is what it is."
Napier said three months is a short experiment for a restaurant, even in the Bottom.
"I don't think you can blame [Boom Boom's closing] all on the night club scene," Napier said. "There is a lunch trade at Lulu's, River City and Cafe Gutenberg. He just wasn't able to tap into the day trade."
Napier said that many of the Bottom's business owners still wish a baseball stadium had been built in the neighborhood to help the area's economy evolve faster.
"The club owners all were in agreement with the smaller businesses," Napier said. "We all agreed that a major econ driver would make the neighborhood better."
Michael Schwartz is a BizSense reporter. Please send news tips to [email protected]