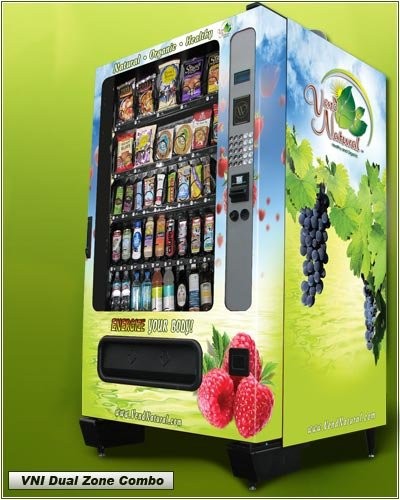 Richmonders might soon have a healthy alternative to Fritos and Snickers in the office vending machine.
Vend Natural, a California-based healthy-snack-vending company, is looking to add locations in Richmond.
The vending machines carry an assortment of organic snacks and beverages — such as apples, bananas and granola bars — and have a dual-temperature system to keep the items fresh.
William Carpenter Jr., president of Vend Natural, said he's looking for local distributors and trying to get the machines into local offices.
Carpenter said the company is hoping to have machines in Richmond within 60 days.
Vend Natural has operations in Arlington and Northern Virginia.
The machines also carry tea, smoothies, water, vitamin water and organic fruit juice.
"Everything in the machine is health-driven. It's a more holistic approach," Carpenter said.
He said that he usually has 38 to 42 machines in one area and that about 90 percent of them are next to conventional vending machines.
"We're just an alternative for people who are looking to be health-conscious," Carpenter said.
He added that about 50 percent of the machines are placed in schools and universities and that the other half are in Fortune 500 companies. Carpenter said he's looking to start out with corporate distributors in Richmond, but colleges are also on the list.
"The University of Richmond is on our target list," he said.
More reading:
In September, BizSense wrote about an entrepreneur setting up self-service mini-marts in break rooms and a former Circuit City employee who is also in the vending machine business.