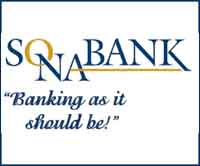 A Northern Virginia bank's first local branch opened for business last week after it closed on a deal to acquire the location from a struggling Norfolk-based bank.
McLean-based Sonabank bought the Midlothian branch of Gateway Bank, along with $46 million in deposits and assets. The terms of the transaction were not disclosed.
The deal for Sonabank's parent company, Southern National Bancorp, to acquire the branch from Hampton Roads Bankshares was first announced in June.
It was part of a broad cost-cutting plan by HRB, the parent of Bank of Hampton Roads, which operates as Gateway Bank in Richmond.
Hampered by hundreds of millions of dollars in losses, HRB set out to shed branches and other assets. It consolidated branches in Hampton Roads and sold off 10 locations in North Carolina and elsewhere in Virginia.
It also sold its Richmond-based insurance operations to another local firm in August. In that deal, Innsbrook-based Bankers Insurance bought Gateway Insurance Services from HRB for $5.8 million in an all-cash transaction.
The Midlothian location is Sonabank's 15th branch. The company has $590 million in assets.
Sonabank President Rod Porter said the bank retained all of the Gateway branch's employees in the deal. The location will have five workers, including one loan officer who has worked in the market for some time.
Although the branch is its first in Richmond, Sonabank has a track record in the region.
The bank is heavy into SBA lending and it has been the lead lender on several high-profile projects in the area, including the Boathouse restaurant in Rocketts Landing and a $20 million bowling and entertainment complex in Chesterfield that is being built by convenience store magnate Steve Uphoff.
"It's that kind of thing that we anticipate will bring us a lot of business," Porter said.
With the Sonabank flag now flying at its new branch, Porter said the next steps would be getting the name out and driving customers to the branch for more than just loans.
Porter said that the bank has blanketed the Midlothian market with a company newsletter to spread the word and that it plans to heavily target small businesses.
"We do a lot of lending in Richmond already, and it's really just a question of converting that into active deposit accounts," said Porter.
Michael Schwartz is a BizSense reporter. Please send news tips to [email protected].