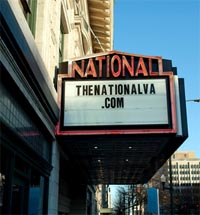 Land developers make up the biggest chunk of tax delinquent businesses in the Richmond area. But the list also includes a golf course in Henrico, a music venue downtown and a planned sports complex in Chesterfield, according to local tax records obtained by BizSense as of Feb. 15.
One of the largest delinquents in Hanover County is Northlake Land Investments. It owes $152,000 in taxes and is in the process of selling a large parcel of its land to the state for the new home of the Department of Game and Inland Fisheries. That project will be developed by a new company, Northlake DGIF, LLC.
Gibson Wright, owner of the Northlake property and Dominion Land and Development, said that once the property is sold, he would use the proceeds to pay the property taxes owed on the land.
Wright is far from alone.
"We have definitely seen some fluctuations from year to year," said Carey Adams, chief deputy treasurer for Chesterfield County. "There is no doubt that the downturn in the economy has affected us in tax collection."
In Chesterfield, entities that make up Roseland, a bankrupt and yet-to-be-built 1,300-acre development, owe more than $500,000. (The Chesterfield County tax delinquency figures were first reported by the Chesterfield Observer.)
Also on the top 10 delinquent list in Chesterfield is SportsQuest LLC, the sports campus that has hit a few snags of late. It owes almost $75,000 in taxes to the county. (You can read more about SportsQuest here.)

In Richmond, RIC Capital Ventures LLC, an entity tied to the downtown music venue The National, owed $84,000, according to city records.
Some of the largest delinquent businesses in Henrico County are various entities tied to the Tetra Companies, a defunct Virginia Beach developer that has seen much of its Richmond area real estate go into foreclosure.
And when it comes to real estate taxes, counties have a message for delinquents: They will get almost every dime of their money on the land.
"For real estate it may take a year or two, [but] we collect about 99.9 percent of it," said Scott Miller, Hanover County's treasurer.
As developers have struggled – and a handful of the big tax delinquents are in bankruptcy – there is no doubt the collection rate has suffered, Miller said. For example, Hanover collected 97.12 percent of the taxes due on June 5, 2011, but that is down by almost a full percent from last year.
That pressure makes it harder on the tax collectors, so don't look to get a lot of sympathy from cities or counties.
"If 97 percent of the county paid their taxes, some [taxpayers] had to make some sacrifices," Miller said. "It may have been hard but I think the tax payers expect us to try and collect from those who aren't current."