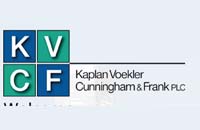 A local law firm that might hold the unofficial record for most name changes in the past year has staked its claim in the Lone Star State.
Kaplan Voekler Cunningham & Frank, now in its third incarnation since May, last week opened an office in Houston. 
The move came after the firm attracted Houston area attorney David D. Jones, who specializes in representing investment companies, investment advisers and broker-dealers.
Until early January, Kaplan Voekler was known as Kaplan & Frank, a name it held for just six months. Before that it was known Gregory Kaplan, a name it held since its inception in 2005.
The most recent name change was prompted by the addition of two attorneys, Tom Voekler and Chip Cunningham, who left cross-river rival Hirschler Fleischer in January and became equity partners at Kaplan.
Attorneys from Richmond's biggest law firms, including Hirschler, LeClairRyan and McGuireWoods, founded the firm in 2005.
Rob Kaplan Jr., managing partner at Kaplan Voekler, said the presence of Voekler and Cunningham expanded the firm's capabilities in securities law, particularly for real estate deals. And adding Jones and the Houston office logically followed, he said.
The firm also has represented investment groups in real estate acquisitions around Dallas, Houston and elsewhere in Texas.
"We do tend to do quite a few deals down there," Kaplan said.
Kaplan said the firm, which has 23 total attorneys, will likely look to grow its presence in Houston, but the growth will be modest.
"Jones is a one-man show for now down there," Kaplan said.