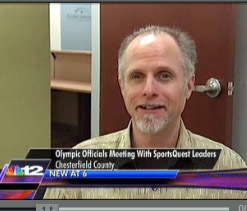 Steve Burton, the founder and public face of SportsQuest, is no longer calling the shots.
The troubled Chesterfield sports complex told Chesterfield County recently that Burton is no longer CEO.
Mike Golden, Chesterfield County's director of parks and recreation, said SportsQuest told the county last month that Burton is out and that Dudley Duncan, a board member and one of the original investors, has taken over leadership.
"Dudley Duncan is now running the operations, and we deal with Duncan on a daily basis now," Golden said. Chesterfield County uses the fields during the week.
It's unclear what will happen to SportsQuest, which has piled up at least $1 million in overdue bills and a handful of lawsuits.
"I think they are looking at what their options are," Golden said.
Burton did not return several calls for comment Tuesday. Nor did Duncan.
Burton's departure was first reported Monday by Style Weekly. Burton remains a shareholder through his investment group, the Beechwood Fund, according to Style Weekly.
With Burton out of the picture, at least one local company is considering making a play for SportsQuest's main asset: a 12-field turf complex off Genito Road.
Christopher Robinson, facilities manager of neighboring indoor sports facility RISE, said his organization has an interest in the fields.
"We've made it known we would like to operate the fields," Robinson said. "It would be a perfect fit [for RISE]. It's up to Duncan to see what he wants to do with the remaining parts."
RISE had been one of SportsQuest's longest standing partners until it pulled out in February and took its sports training and sports leagues back under its own control.
SportsQuest, which includes for-profit and nonprofit components, has struggled financially since it was conceived around 2008 as a mecca for sports training, competition and entertainment.
Burton's vision evolved constantly. In 2009, he told Richmond BizSense that he wanted to have a pavilion for concerts and an outdoor bike track. He also started an Arena Football team, which folded last year, and claimed that SportsQuest would eventually hold Olympic trials in sports like speed skating. Throughout 2010 and 2011, Burton grew SportsQuest's reach by adding leagues such as flag football and specialized training in sports like women's lacrosse. He hired established coaches and league owners and made them SportsQuest "partners." Most of those partnerships fizzled after Burton reneged on payments.
Burton also started SportsQuest Academy as a sports training boarding school. That shut down in recent weeks with just five students, according to the Style Weekly report.
Legal woes keep mounting for the project.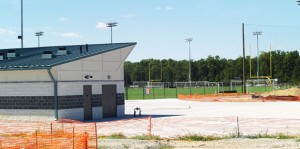 The Virginia attorney general's office sued SportsQuest in February for improperly marketing and selling memberships to a fitness center that was never built. Most recently, SportsQuest was evicted from a temporary fitness facility it had leased as a gym for its members.
Contractors have also filed liens to the tune of almost $1 million and sued SportsQuest to make sure they are in line to get what they're owed.
Prior to his departure, Burton said he was working to line up other investors, including through a proposed plan to split SportsQuest's operations into three entities in the hopes of making it a more attractive investment.
The one part of SportsQuest that came to fruition is the 12-field turf complex that has been its main source of revenue. The construction of those fields was financed in part by a $4.3 million payment from Chesterfield County. In return, the county has been able to use the fields and was promised a recreation center that has not been built.
The county has maintained that it is protected with a lien should SportsQuest fail to hold up its end of the agreement.
Garrett Hart, an assistant director at Chesterfield Economic Development who helped broker the SportsQuest deal, did not return a call seeking comment.
County Attorney Jeffrey Mincks also did not return a call by press time.