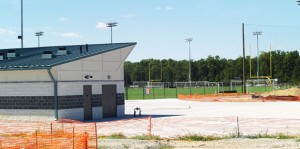 Two local companies are getting more aggressive in their attempts to recover money SportsQuest owes them.
Timmons Group and J.E. Liesfeld Contractor Inc., two local contractors that helped build SportsQuest's 12 turf fields in Chesterfield, each filed lawsuits this week against the troubled sports complex.
William Bayliss, an attorney with Williams Mullen who is representing both Timmons and Liesfeld, said the suits are an attempt to enforce mechanics liens the companies previously filed for a total of about $780,000 and to get a judge to declare a judgment against SportsQuest for the money owed.
"Our goal would be to have the responsible parties recognize priority issues and go ahead and get these claims paid so the project can go forward," said Bayliss. "We thought it would be better done sooner than later."
Bayliss said SportsQuest does not dispute that it owes his clients.
"Nobody on either side has voiced any questions of the work being performed properly or the fact that the money is owed," he said.
And at one point, SportsQuest had an office inside of Timmons' Midlothian office space.
The lingering question is where that money will come from.
SportsQuest founder Steve Burton said Tuesday that he's working to find the money to pay contractors.
"We're going through a process to find a financial solution for exactly that [paying off the liens]," Burton said. "It's a process. I can't give a definite date."
SportsQuest has suffered several major blows recently.
The Virginia attorney general's office sued it last month for improperly marketing and selling memberships to a fitness center that was never fully built. Then RISE, a neighboring indoor sports facility, severed its relationship with SportsQuest. Most recently, SportsQuest was evicted from a temporary fitness facility it had leased.
Despite those problems and its unpaid bills, there is money coming in, Burton said, adding that the facility has generated more than $1 million through athletic events held at SportsQuest's turf complex off Genito Road.
March will be the company's biggest month in terms of activity on its fields, Burton said. That includes a share of the action from the Jefferson Cup, a popular soccer tournament that plays on fields all over Richmond.
SportsQuest makes money from tournament entry fees, vendors' sales, concessions and the like, Burton said.
That money goes toward day-to-day expenses and paying vendors that are owed money, he said.
But the liens and lawsuits show that the revenue is not enough to cover everything.
Burton said he is working to line up other investors, including through a proposed plan to split SportsQuest's operations into three separate entities in the hopes of making it a more attractive investment.
"There are a number of people looking at different things, but it's premature to talk about details," Burton said.
Burton also said there are a few million dollars left in a construction line of credit that SportsQuest is unable to access until it can find more money from outside investors.
"What we need to activate that is additional equity capital," Burton said.
He said he is looking to restructure the debt SportsQuest owes to one of its main lenders. Burton would not name the lender, only saying it was a senior lender on the project and is a private, non-traditional lender.
Burton said he had not yet been served with the latest lawsuits from Timmons and Liesfeld.
"They are just reserving their spot, as they need to, to make sure they get the last of their payments," Burton said. "There's no ill will in that. I'm a businessman. I understand. They've truly helped SportsQuest to get where it is."