Richmond's biggest and fastest growing frozen yogurt chain is attracting more than just spoon-wielding, fro-yo-crazed customers.
Sweet Frog Enterprises on Friday received a capital injection from Shockoe Slip-based private equity firm Boxwood Capital Partners.
Financial specifics of the deal were not disclosed, though Sweet Frog does give up a piece of itself as part of the deal, according to Patrick Galleher, managing director of Boxwood.
"We'll own a good minority stake in the business and help Derek execute his vision," Galleher said, referring to Sweet Frog founder and CEO Derek Cha.
Sweet Frog, which operates self-serve frozen yogurt stores and licenses the Sweet Frog name to independent operators, helped ignite what has become a ballooning industry in Richmond. (Click here to read our story from last week entitled, "Will Fro-yo market soften?")
It was one of the first of a wave of frozen yogurt shops to invade the Richmond market, now home to 11 frozen yogurt operators and 20 locations.
Founded in 2009, Sweet Frog has separated itself as the largest of the local chains. Cha's company has eight locations in Richmond, more than 40 in Virginia and dozens more in 15 total states with more under contract.
The capital it received from Boxwood will help Sweet Frog continue to expand. It has plans for more locations in the United States and internationally.
It will look to have 180 locations by June, Galleher said.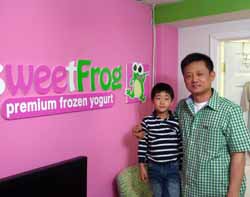 Cha (pictured left) could not be reached for comment Monday. He said in a prepared statement, "We welcome Boxwood Capital Partners' investment in Sweet Frog and look forward to collaborating with them in the future. We believe that Sweet Frog is well positioned for expansion on a national scale."
Because frozen yogurt operators have similar models and increasing competition, location and leadership will become paramount, Galleher said.
"Is everyone going to survive? No," Galleher said. "We do believe wholeheartedly there will be long-term winners. The ones with good locations and good leaders will survive."
Deeper pockets than the competition won't hurt, either.
"Among all the competition out there, there's not that many that are well capitalized," Galleher said. "We think the better capitalized players will continue to find the great locations."
Boxwood and Sweet Frog began discussions for a deal last fall.
Galleher took notice of the company because its name constantly came up in conversations with acquaintances and kids he coaches in youth sports. Boxwood associate Connor McMahon had also become a fan of the froyo and helped initiate some of the early talks.
Boxwood has also been approached by other capital-hungry frozen yogurt shop operators, Galleher said.
Sweet Frog is Boxwood Capital's seventh investment. Its Shockoe Commerce Group is made up a portfolio of companies that sell yoga apparel, healthy snacks, coffee, office supplies and other businesses.
Galleher says he, too, partakes in the frozen treat regularly. Call it due diligence.