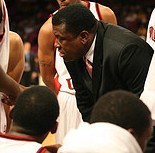 A local university being sued for millions by a coach who claims he was defamed fired back last week.
Virginia Union University said the lawsuit filed last month by former men's basketball coach Willard Coker doesn't prove defamation because the statements in question were based on opinion and are not direct quotes from a school official, but rather paraphrased in a newspaper article.
The school wants the suit tossed out.
Coker was fired as head coach of Virginia Union University men's basketball team last year during March Madness.
Coker claims in his suit that VUU openly defamed him by stating it fired him because he had "shortfalls" in his recruiting of players.
He claims the allegedly false remarks tarnished his reputation as a coach and prevented him from landing another job.
Those remarks were the basis of an article published in the Richmond Times-Dispatch.
VUU says in its response that the article does not directly quote Bailey. Therefore, VUU argues, the suit does not stand up to Virginia's defamation law, which states that such remarks must be published as direct quotes to be considered defamatory.
Coker's lawsuit "merely points to a paragraph in a newspaper article in which a reporter summarizes his own understanding of what may have been said," VUU said in its response.
VUU also argues that any statements made by Bailey regarding alleged "shortfalls with recruiting" are "pure opinion."
"Expressions of opinion are constitutionally protected and are not actionable as defamation," the suit said.
Such opinions must be also provably false, which in this case they are not, the school argues.
McGuire Woods attorneys Stephanie Karn, Eric Martin and Gilbert Schill represent VUU.
When reached by phone, Martin referred all calls on the matter to Karn. Karn did not return a call by press time.
VUU referred calls to spokesperson Shena Crittendon. She did not return a call by press time.
Coker is represented by Richard Hawkins, who did not return calls by press time.
Coker's suit alleges that the sudden spotlight on young coaches at Virginia Commonwealth University and the University of Richmond encouraged VUU officials to make a media splash by putting Coker's 30-year-old assistant, Luqman Jaaber, at the helm of its basketball program.
Coker, now 53, is seeking $2.35 million in total damages in a jury trial.