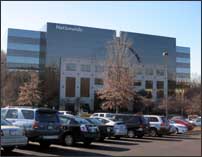 An accused local Ponzi schemer's attempt to blame his predicament on his lawyer has finally been put to rest.
The Virginia Supreme Court last week tossed out a $45 million legal malpractice suit filed by Richmond-based AIC Inc. and its founder Nicholas Skaltsounis against attorney Tom Grant and the law firm Troutman Sanders.
While under investigation in 2010, Skaltsounis and several financial firms he ran sued Grant and Troutman Sanders, claiming that bad legal advice led them to engage in what resembled a Ponzi scheme and drew federal scrutiny.
Troutman argued that the suit should be dismissed, and Richmond Circuit Court initially agreed. But the now defunct AIC and Skaltsounis kept fighting, appealing the case all the way to state Supreme Court.
A year and half later, Troutman and Grant are vindicated.
"Troutman Sanders has stated from the onset of this litigation that the allegations made against it and partner Tom Grant were baseless and without merit," John West, managing partner at Troutman Sanders, said in a prepared statement.
"This result is complete vindication for the law firm and Mr. Grant."
Skaltsounis's days in court, however, are far from over.
Along with AIC, several subsidiary firms and two brokers in Colorado and Florida, Skaltsounis was charged in a civil suit filed by the Securities and Exchange Commission in April 2011 with running an alleged three-year, $7.7 million Ponzi scheme.
The SEC claims that AIC Inc. and Community Bankers Securities LLC, both of which were located on Boulders View Drive, Skaltsounis and the two brokers fraudulently offered and sold promissory notes to at least 74 investors in at least 14 states.
That cased is being fought in federal court in Tennessee and is set for trial in February.
AIC billed itself as a financial services holding company that acquired small broker dealers such as Community Bankers SEC, CBS Advisors, Waterford Investor Services and Advent Securities.
Although it never turned a profit, AIC claimed in its original suit that it was on the verge of profitability when the SEC's investigation derailed its progress.
The $45 million in damages it wanted from Troutman and Grant came from a calculation that AIC, Skaltsounis and the other companies claimed came from irreparable damage to their business and reputations caused by the SEC investigation.
Charlottesville attorney Steven Biss represented Skaltsounis and AIC.