Out-of-town banks seem to have developed a crush on the Libbie and Grove neighborhood.
Northern Virginia-based Middleburg Bank, which is looking to open its second Richmond branch, is considering a former Wachovia/Wells Fargo location at 315 Libbie Ave., in the heart of the popular Libbie and Grove retail area.
The bank, whose mascot is a fox named Mosby, opened its first local branch downtown in November.
Middleburg is the second out-of-town bank to set up shop in that area of Libbie. In April, Christiansburg-based StellarOne Bank leased a former BB&T branch just up the street at the corner of Libbie and Patterson avenues. The 1,700-square-foot property will be StellarOne's first Richmond branch.
Austin Joy of commercial real estate firm Spotts & Carneal manages the property Middleburg has targeted. He said Wells Fargo moved out of the 3,000-square-foot building after its lease expired in December.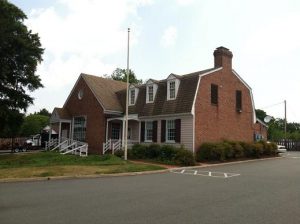 The 1.3-acre property was most recently assessed by the city at $2.25 million.
It is owned by an entity called Neville-Berkeley Properties LLC, which shares an address with Spotts & Carneal.
Andy McLean, the bank's regional head in Richmond and Williamsburg, was not available for comment.
Middleburg Bank is based in Middleburg, just west of Washington. The bank was founded in 1924. Its holding company was created in 1993 and has about $1 billion in assets.
The bank has 10 branches, mostly in the northern part of the state and one in Williamsburg. Its downtown branch is at 821 E. Main St., in the former Tredegar Trust building. Middleburg has owned that building for some time, as it has been home to its Middleburg Trust subsidiary.
The bank must still receive the customary regulatory approval for the branch expansion.