Hummus giant Sabra Dipping Company announced plans Thursday for a $28 million expansion at its campus in Colonial Heights that will increase production capacity at its existing plant and add a 20,000-square-foot R&D facility.
The company opened its $61 million, 110,000-square-foot facility on 49 acres in Ruffin Mill Industrial Park in 2009.
The expansion would eventually add 90 workers, including hourly operators, managers and engineers, to the current employee base of 430, the company said.
"This is about hummus," said Sabra COO Meiky Tollman.
The expansion is a step toward increasing the company's market share in the dip industry. It controls a 56 percent share of the hummus market in North America, he said.
Tollman said Sabra hummus has a U.S. household penetration rate of 13 percent. But it's hungry for more.
"That represents an amazing opportunity of 87 percent of American households," he said. "We need to bring this product to more and more houses, and for this, we need capacity."
Sabra's plan is for what it is calling its Center of Excellence: a research and development facility where it will tinker with new types of dip and technology. Construction will begin this month, according to a release from the governor's office.
Sabra also is researching the possibility of growing chickpeas in this part of the country. The company currently gets most of its chickpeas from the Northwest in states such as Washington and Idaho.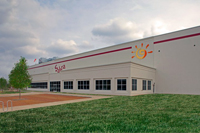 And at its current plant, the company will install two new hummus production lines, a packaging automation system and other plant improvements. It will increase the plant's production capacity by 50 percent.
And Sabra has more up its sleeve than just hummus.
"Hummus is our hero, but it's beyond hummus," Tollman said.
The company produces salsa at a facility on the West Coast and guacamole in Mexico.
Sabra is also looking to go global. It is opening a hummus factory in Mexico and has its sights set on overseas.
This is at least the second big economic development announcement to come out of Chesterfield County in recent months. Internet giant Amazon is building a 1 million square foot fulfillment center at Meadowville Technology Park.
Sabra's neighbors in the 300-acre Ruffin Mill Industrial Park include Mitsubishi Gas and Chemical, a Havertys distribution center, Fiorucci Foods and Hill Phoenix. The park has about 30 acres that have yet to be built out, according to the county.
Will Davis, Chesterfield's director of economic development, said the deal with Sabra has been in the works for a couple of years.
Davis said the process was competitive. Sabra considered several other sites, both in the United States and abroad.
"They could have put it anywhere in the world, and they are going to put it right here in Chesterfield," Davis said.
Sabra received some incentives to help seal the deal with the county. Gov. Bob McDonnell approved a $250,000 grant from the Governor's Opportunity Fund to secure the project. The Virginia Economic Development Partnership was also in on the negotiations.
And the Virginia Department of Business Assistance will provide funding and services to Sabra to help with recruiting and training through the Virginia Jobs Investment Program.
Davis said his office is already looking to attract companies that want to do business with Sabra, such as includes suppliers and entities that could help advance the potential for growing chickpeas nearby.
"They go through thousands of pounds of chickpeas," Davis said. "If we could start growing them in Virginia, it could be the next crop."