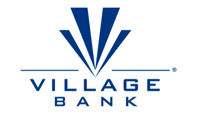 A Midlothian-based bank holding company has come under a written agreement with its federal regulator.
The agreement issued last week for Village Bank and Trust Financial Corp. (VBFC) comes four months after its Village Bank subsidiary was hit by the FDIC with a consent order.
Both agreements are aimed at keeping the bank and its holding company on a sound course as they work through troubles related to tens of millions of dollars in bad loans and foreclosed properties that have stacked up over the past few years.
Village Bank CEO Tom Winfree said in an email to BizSense that this latest agreement with the Federal Reserve Bank of Richmond, was expected and that it came about because Village has separate regulators for the bank and its holding company.
"The agreement with the Fed is part of the overall regulatory oversight and was forthcoming when we entered into the agreement with the FDIC and the State [Bureau of Financial Institutions]," he wrote.
Many of its local peers have the Federal Reserve Bank as regulator for both the holding company and the related bank.
Village Bank entered into a consent order with the FDIC in February. But because the holding company is overseen by the Fed, the similar but separate agreement had been looming.
"The new agreement mirrors the bank agreements in order to maintain the consistency necessary to keep us on the same track with all three regulators," Winfree said.
Both agreements include plans to shore up Village's capital reserves by setting strict thresholds. As of the end of the first quarter, Village was considered adequately capitalized, according to the standards of the FDIC agreement. It must keep in place a plan to maintain those capital levels and a contingency plan should it fall below the thresholds.
Village is also prohibited from paying dividends to shareholders of any kind without prior approval by regulators.
That includes the quarterly dividends it must pay to the U.S. Treasury for its participation in the TARP Capital Purchase Program. Village received $14.7 million in TARP capital in May 2009, and dividends of 5 percent are due quarterly. It has had to defer more than $800,000 in TARP dividends.
Written agreements and consent orders, which have become common in the recession's wake, set out guidelines to which struggling banks must adhere.
The agreements do not signify that a bank is in imminent danger of failure.
Village is among a handful of local institutions under such agreements, including Essex Bank, Central Virginia Bank, EVB, Virginia Community Bank and Bank of Virginia. The former Consolidated Bank and Trust was under agreement before being merged into West Virginia-based Premier Bank. Virginia Business Bank, the only local bank to fail during the recession, had been under agreement until the FDIC shut it down in August.
Meanwhile, Village is trying to sell its massive headquarters building on Midlothian Turnpike just off 288 and lease back the space.
The six-acre lot is listed with CB Richard Ellis at $16.3 million. The bank occupies about 40 percent of the four-story, 80,000-square-foot building.
The sale would allow Village to regain compliance with a rule regulators said it violated after it inadvertently failed to inform the Federal Reserve that it transferred ownership of the building from the holding company to the bank.
Village has about $555 million in total assets. It lost $1.4 million in the first quarter, after losing around $12 million in 2011. Its losses have been fueled by large real estate loans gone bad and the need to set aside capital to counteract those soured loans and to cushion against potential future troubled borrowers.
It had $411 million in total loans as of March 31. It had $69 million in non-performing assets.
The bank has been caught up in the troubles of several high-profile local developers, such as Hank Wilton and DuVal Development. It also is still owed money from the Tetra Companies, a defunct Virginia Beach developer that left several local banks hanging for millions.