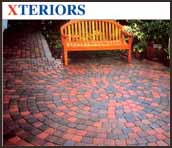 Almost 18 months after its bankruptcy filing, a local concrete manufacturer's assets are headed to the auction block.
The lenders of Xteriors, a Doswell company that fell victim to the housing bust, have foreclosed on and this week will auction off the company's manufacturing facilities and equipment.
Xteriors manufactured and sold all sorts of concrete paver blocks used to make everything from fancy driveways and walls to walkways around suburban swimming pools. It filed for Chapter 11 bankruptcy protection in February 2011.
The plan at the time was to reorganize and find an orderly way to repay its creditors and stay in business. The company, through four different entities that each filed Chapter 11, owed millions of dollars to lenders, including the SBA, Union First Market Bank, the Rappahannock Economic Development Corp. and vehicle lenders.
By October, however, the entities voluntarily had their Chapter 11 cases dismissed, claiming there wasn't a reasonable likelihood for a successful rehabilitation or a plan that would satisfy creditors.
Beginning Thursday, auctions will be held for Xteriors' a 15,000-square-foot concrete plant that sits on 26 acres near Kings Dominion, an adjacent concrete mixing facility, equipment and the company's intellectual property.
Motley's Auction & Realty Group is conducting the auction on behalf of Xteriors' secured creditors, some of which fought for permission in federal bankruptcy court to foreclosure on certain of the company's assets.
"Bidders can buy the real estate, the equipment or a buy it as a turnkey operation," said Motley's President Mark Motley. "It's ready to walk into and turn the lights on."
An onsite auction will be held for Xteriors' main facility Thursday. Separate online auctions will be held for the remaining real estate, vehicles, equipment and even the Xteriors' name.
"If they want to keep the name, they can," Motley said of potential buyers.