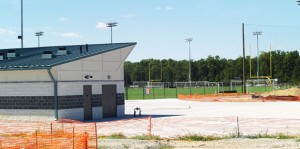 All that remains of the dream that was SportsQuest is $800 cash, a Dell computer, two printers, a fax machine, a calculator and a multimillion-dollar pile of debt.
SportsQuest LLC filed Wednesday for Chapter 7 bankruptcy. SportsQuest LLC was the entity that until May was the main driver behind the once highly touted athletic development in Chesterfield.
The filing, signed off on by the SportsQuest LLC board, lists assets of $1,030 and total liabilities of $7.34 million of unsecured claims.
"The purpose of this filing is to present a full picture of the company to the company's creditors and investors and to bring closure to the company," said Dudley Duncan, SportsQuest LLC's managing director, in a statement released Wednesday. Duncan was an early SportsQuest investor.
Turf manufacturer Shaw Sportexe, owed about $15 million by SportsQuest, took control of the fields through foreclosure and now operates them. In June, Shaw hired commercial real estate firm CBRE | Richmond to manage the fields and renamed the complex River City Sportsplex.
With hardly any assets to liquidate, the Chapter 7 case likely won't lead to many resolutions for SportsQuest creditors. A trustee, once appointed, will consider whether there is any unknown revenue that might help pay back SportsQuest's 52 potential creditors.
Among SportsQuest's debt is $71,800 in property taxes owed to Chesterfield County. A liability of $4.3 million to the county is also listed in the filing. That's related to money the county put up to help construct the fields. That deal reportedly gave the county first lien on the property, although Shaw now controls the fields.
It's unknown what sort of arrangement Shaw has with the county to address the lien, although the turf company, part of Warren Buffett's Berkshire Hathaway, has honored SportsQuest's agreements with the county for continued use of the fields. Shaw has created a new entity, Sports Complex Holdings LLC, to operate the fields.
Another lingering legal issue is whether several mechanics liens filed against SportsQuest will take precedence over the county and whether Shaw might be on the hook to cover some of the money owed for work on the fields following its foreclosure.
The bankruptcy filing lists more than a dozen potential claims for wages that might be owed to former SportsQuest employees. That includes potential claims for four months worth of wages to SportsQuest founder Steve Burton and 14 weeks of wages to his wife, Cindy Burton.
Also listed as a SportsQuest asset is $1 that represents a placeholder for potential claims that could be made against Steve Burton, whose grand and ever-expanding vision for SportsQuest came crashing down amid a pile of unpaid debts.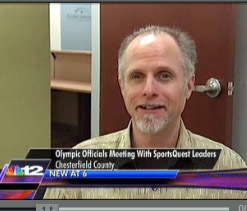 Upon founding SportsQuest, Burton also created numerous LLCs to control its own brands of lacrosse, baseball, speed skating and other sports. There was even a nonprofit SportsQuest Foundation created to funnel revenue from bingo matches back into the overall SportsQuest operation. Former employees told BizSense that they were paid from various accounts, including SportsQuest LLC and SportsQuest Foundation.
After ousting Burton in March, Duncan and and the board tried to unwind the mess Burton's left behind.
"The board spent months studying various restructuring and sale options, spoke with potential suitors and conducted legal and financial audits," Duncan said in his statement. "Ultimately, the board determined that, because of the debt structure, neither a sale nor a reorganization was feasible."
An investigation would likely be needed to pursue any potential claims against Burton or entities he created. Given its lack of assets and cash flow, such an investigation is unlikely.
Duncan did not return calls for further comment.
A message left Wednesday for Steve Burton was not returned by press time.
David Spiro, attorney at Hirschler Fleischer, is representing SportsQuest LLC in its bankruptcy. Spiro could not be reached for comment by press time.
Among its other debts is $649,000 owed to J.E. Liesfield Contractor and $282,000 to the Timmons Group, both of which previously filed lawsuits against SportsQuest to collect for unpaid on the complex.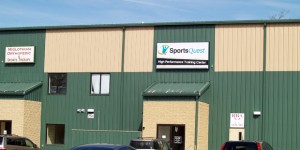 Carns Properties claims it is owed $720,000 for unpaid rent on space SportsQuest leased for use as a temporary fitness facility.
The bankruptcy will also all but put an end to the lawsuit filed against SportsQuest by Virginia Attorney General Ken Cucinelli's office that sought to prevent Burton's company from selling memberships to a touted fitness facility that was never built.
The board members of SportsQuest LLC include Dudley Duncan, Barry Moore, Chuck Gabler, Cleary Clarke Maly, John Ulkle, Mark Sowers and Kurt Schuster, according to the bankruptcy filing.
Sowers, who sold SportsQuest the land for the fields and had planned to sell an additional 30 acres to the company, is also owed $500,000 on a loan he made to the company, according to the bankruptcy filing.
"It has always been a land deal for me," Sowers said Wednesday. "I knew what my risks were from the beginning."
That additional 30 acres, which sit to the west of the fields, remain for sale, Sowers said.
Several other SportsQuest LLC board members reached by phone Wednesday declined to comment.