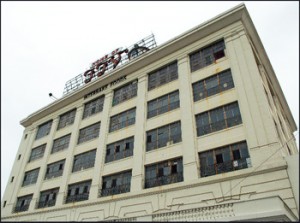 The rehabilitation of the former Interbake cookie factory at the corner of Boulevard and Broad Streets has moved one morsel closer to reality.
The Richmond City Council on Monday approved a special-use permit for the Rebkee Company and its partners, giving its blessing to the developers to convert the graffiti-covered building into 178 apartments.
Local veteran developer Steve Leibovic is also part of the Interbake deal as the head of investment group that first purchased the property.
Leibovic, who developed the 187-unit Southern Stove Lofts on Hermitage Street and the Eagle Mill student apartments in the Carver section of Richmond near VCU, will develop the residential component of the factory. Rebkee will focus on the retail in the warehouse and adjoining lot.
Leibovic, 57, said that the plan is to start construction on the building in October but that the contractors have yet to be finalized.
"We're about 80 percent finished with the construction plan," he said. "We're working with a few contractors right now, but we haven't identified the general contractor yet."
Leibovic said it was probably too late for new general contractor candidates but that contractors interested in sub work could contact the general contractor once it is identified.
The first phase of the residential development should be finished around the middle of next year, Leibovic said.
Interbake is the largest project in a changing stretch of the Boulevard. Two restaurants are in the works within a few blocks of the development.
The Rebkee Company bought the old Stronghill restaurant building at 1200 N. Boulevard in July for $1.1 million and is leasing it to restaurateur Chris Tsui, who also owns Wild Ginger and Osaka. Michelle Graziano, a spokesperson for Tsui's restaurant group, said the company is looking to open Fat Dragon in October, barring delays.
Patrick Stamper and Randy O'Delle of BellyTimber Tavern are opening a taco restaurant called En Su Boca in the old Triangle Book Store building on Boulevard.
Charlie Diradour's Lion's Paw Development is developing the restaurant. Diradour said the restaurant should be open by November.
And BizSense previously reported that Whole Foods is looking at putting a store in Richmond, perhaps on Broad Street near the Interbake plant.