A Hanover manufacturing plant is getting a second life after being going dormant during bankruptcy and foreclosure proceedings.
Three locals with the backing of a Pennsylvania firm bought Doswell-based Xteriors and its 27-acre concrete paver facility at auction last month with plans to resurrect the business under a new name and expand it with millions in new capital.
Richmonders Miles Clarkson and Jim Covington and a third local investor, along with York Building Products of York, Pa., spent $2.7 million to buy the defunct Xteriors property, which included a 15,000-square-foot concrete plant, an adjacent concrete mixing facility, equipment and the company's intellectual property.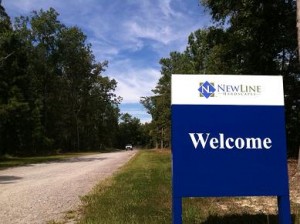 They're putting in a few million more to launch NewLine Hardscapes. The company will manufacture concrete pavers that are used to line walls, driveways and pools, particularly in suburban homes.
"We got this thing for a steal," said Clarkson, 37, NewLine's director of sales.
Clarkson and Covington had plenty of motivation to take the leap and launch NewLine.
Their jobs at nearby Hanson Building Products in Ashland were eliminated during the summer.
"When we found out Hanson was potentially going to be purchased, we both thought 'What are we going to do?'" said Covington, 45, NewLine's general manager.
They were aware of the situation up the road at Xteriors, which had filed for bankruptcy in February 2011 with the hope of reorganizing.
The company manufactured and sold all sorts of concrete paver blocks, which began to grow in popularity during the housing boom.
But riddled with too many millions of dollars in debt, Xteriors threw in the towel, and lenders foreclosed on its assets and sold them at auction last month.
Once word of the pending foreclosure auction was out, Covington, Clarkson and their third partner, who they identify only as "the banker," went to work to figure out what it would take to get the property at auction.
"To go out and get capital takes time, and we didn't have time," Covington said.
They had some contacts at York, a company that owns rock quarries, sells numerous lines of concrete products and has deeper pockets than the three Richmond partners.
"We got on the phone, and [folks from York] were down here the next day," Covington said.
Covington and Clarkson kept their intentions quiet because of their experience with the tightknit and competitive concrete paver business.
They kept so quiet, in fact, that they didn't show up at the auction. A representative from York attended the auction while Clarkson and Covington watched it online. They got the news of their winning bid via text message.
"There was a lot of high-fiving," Clarkson said.
Clarkson, Covington and the third investor put up their own money to help buy the assets at auction. York will fund the expansion, which will include adding square footage onto the manufacturing plant and purchasing new equipment. The deal gives York a slight majority ownership of the new venture. Richmond-based law firm Spotts Fain represented the NewLine team.
All in, the new owners will spend about $5 million to make it their own.
"To build a plant with this acreage would be double that," Covington said. "It's a great deal. It's turnkey."
They're now working to get NewLine and the property up and running.
They've done a few test runs on the plant's equipment and expect to be fully operational and cranking out pavers by early next year. NewLine will sell to wholesale stone dealers and stone yards, not directly to consumers.
The company will have eight employees in the meantime, including operations manager John Nuckols, who worked with Clarkson and Covington at Hanson.
NewLine has also hired several former Xteriors employees on consulting basis, Clarkson said.
Once the plant is running at capacity, NewLine expects to have a staff of about 25.
It recently hired Big River to handle its branding and.
Clarkson said the local concrete paver industry is small and that most of the competition and paver products in the market have been coming from up north.
"There are plenty of shippers from New Jersey on down. We want to push them back and take control of this market," Clarkson said.
They wouldn't disclose how much they think they'll do in sales each year.
Though they're just getting off the ground, Covington said he likes the feeling of being out on their own and free of the bureaucracy of larger companies.
"It's exhilarating," Covington said. "It's nice to be able to make decisions that affect your business."