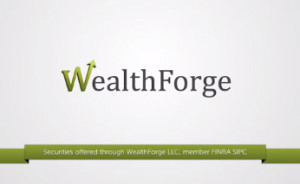 A local startup got a shot in the arm last week from three of the biggest names in the Richmond business scene.
WealthForge, a 3-year old firm that acts as a broker-dealer and investment banking firm in the emerging crowdfunding industry, raised $2.5 million in fresh capital from New Richmond Ventures and New York-based financial firm SenaHill Partners.
NRV is a Shockoe Bottom-based investment firm founded by Ted Chandler, Jim Ukrop and Bob Mooney. The company provides growth capital for small, local businesses.
Launched in late 2010 by two University of Richmond graduates, WealthForge initially was created as an online marketplace to connect entrepreneurs with accredited investors. As the crowdfunding realm exploded with competition, WealthForge co-founder Fred Bryant said the company decided to change directions.
"We saw a lot of funding portals were opening up and were in competition with us," said Bryant, who founded the company with Mat Dellorso. "We realized we were better off becoming the plumbing of the marketplace."
The company now has turned itself into an intermediary with all the securities licenses and designations necessary to vet and process transactions for the funding sites and their investors and clients.
"We are basically a broker-dealer for the [crowdfunding] platforms," Bryant said. "It's a more [business-to-business] model, but we think it's a lot more stable, a lot more scalable."
WealthForge makes its money by taking a transaction fee from each deal it works. Bryant said most of the deals it sees at the moment are in real estate or debt securities.
Among its clients are RealtyMogul, an online marketplace that allows accredited investors to pool their money to buy real estate. It's one of the many veins of the crowdfunding industry that have popped up in recent years.
WealthForge employs 22 workers out of its 4,500-square-foot office at One Paragon Place near Glenside Drive and West Broad Street. It wants to continue to expand its staff so it can look at more deals and generate more revenue.
That's where the need for capital came in.
"We knew we needed a significant amount of capital to supercharge the firms' growth," Bryant said.
This is at least the second capital raise WealthForge has completed. In mid-2012, it raised $321,000 from a handful of investors that included a former executive at Massey Energy.
It didn't have to look far for the latest raise. Chandler has been WealthForge's chairman for about a year and half.
It was WealthForge's shift into being a broker-dealer that Chandler said caught the eye of New Richmond Ventures.
"We loved the market where Wealthforge is positioned," said Chandler. "They are right at the intersection of finance and equity raises. That area is ripe for a new competitor."
Chandler said WealthForge fit NRV's criteria of a Richmond-based company bringing a new way of operating in an established niche where incumbent players no longer have the advantage.
"We're attracted to really bright, hardworking folks. We tend to bet on the jockey as much as we do the horse," he said. "It's the entrepreneurs that drive the companies, not us or any one inventor."
Chandler, the former chief executive of the now defunct LandAmerica, described NRV as "patient capital," as opposed to more aggressive venture capital or private equity firms.
Along with Ukrop, who ran the former Ukrop's grocery chain and Mooney, a plugged in former CFO and accounting veteran, the trio has the connections to other wealthy and mostly local investors to buy into local startups.
"We commit to a company and invite other like-minded investors to join in," Chandler said.
Specific terms of its deal with WealthForge weren't disclosed. But both NRV and SenaHill received preferred stock of WealthForge in exchange for the capital.
Since its founding two years ago, NRV's other investments include local startups PlanG, Evatran, MedCPU, and Health Warrior.