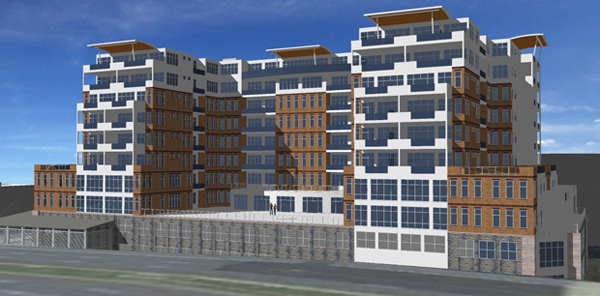 800 Semmes will be Manchester's tallest building. (Photo courtesy of Apex Design Group.)
Manchester is growing up.
A team of local developers is set to break ground on a 10-story condominium building at 800 Semmes Ave. later this month.
The project is majority owned by Mark Purcell in a joint venture with veteran downtown developers Robin Miller and Dan Gecker. Dubbed 800 Semmes, it will be Manchester's tallest building upon its completion.
Miller, who with Gecker has already developed several Manchester apartment projects, is betting the condo market will come on strong as 800 Semmes climbs to new Southside heights.
"I look at the demographics, I look at the number of baby boomers and the fact that dad is tired of cutting the grass, trimming the hedge, painting the trim," Miller said. "Maybe they sell the house in the West End or another city and come to downtown Richmond for the smaller condo."
Plans call for more than 140 units built atop a two-story parking deck. The building will also have a club room, fitness center, rooftop deck and a tenth-floor lounge.
The units could be marketed as apartments initially, Miller said, if the condo market isn't where he hopes it will be in the next half-year. The building's owners will make a final determination on how to market the building about six months from now.
The units themselves will be about a 50-50 mix of one- and two-bedrooms. They'll run from about 550 square feet up to 1,100 square feet with 100- to 400-square-foot outdoor terraces. A quartet of top floor penthouses will reach up to 1,400 square feet with terraces at about 500 square feet.
Miller described the terraces as almost full outdoor rooms, stressing they won't be patios, decks nor balconies. He said the outdoor space would appeal especially to downsizing empty nesters.
"These are actually rooms where you can sit out, enjoy the view, enjoy the skyline," Miller said. "You can have a table, sit four, have plants, have people over for dinner."
Purcell's firm, Purcell Construction, is the general contractor for 800 Semmes. Apex Design Group is the building's architect. Miller declined to divulge details about how the project would be financed or what it would cost, or what condo units would sell for. He said had only an approximate estimate at this time.
"I would rather keep that confidential until the 'approximately' goes away," he said.
Purcell, Miller and Gecker previously teamed up for the 1200 Semmes project just a few blocks up the street from 800 Semmes. Construction is finishing up and that building's 129 apartments are currently pre-leasing for summer move-ins.
Miller and Gecker are responsible for hundreds more Manchester apartments, including the 909 Perry Street apartments that opened in 2012 and the 908 Perry apartments coming up across the street. The team also developed the 80-unit Old Manchester Lofts condo building at 815 Porter St.
Through their company Urban Land Associates, Miller and Gecker own another 30 or so acres of thus-far undeveloped land in Manchester, including entire city blocks west of Commerce Road between Bainbridge and Perry streets.
All told, there are now more than 3,000 total apartments and condominiums in Manchester counting those under construction and on the drawing board.
The largest project currently underway is a 200-unit Fountainhead Development tax credit conversion at the Miller Manufacturing plant on Decatur Street. Thalhimer Realty Partners has another 500 potential apartments planned for its 17.2-acre Reynolds South plant stretching northwest from Hull Street.
The 800 Semmes project will likely maintain the title of Manchester's tallest building until Thalhimer builds a pair of planned 13-story high rises planned for the South plant. There is not yet a firm timeline in place for that project.

View Larger Map