A year after a comparable Shockoe Bottom condo project was withdrawn due to opposition to its height and location, a different developer is proposing a slightly shorter building for land down the street.
Developers David Johannas and Jerry Peters, along with an additional unnamed partner, are preparing to apply for a special-use permit to develop an 11-story condo building at 2723 E. Cary St. The 0.3-acre site sits catty-corner across Pear Street from the site of the taller project proposed last year.
That project, proposed by developer David White of real estate firm Historic Housing, was for a site at Pear and East Main streets, at a higher elevation than the Cary Street location. The site for this latest proposal is between Cary and Dock streets, downhill from the Lucky Strike Power Plant building and closer to the level of the James River.
Johannas, Peters and their partner are working the project through 2723 E. Cary LLC. Johannas, an architect with Johannas Design Group, currently serves on the Richmond Planning Commission. Peters, a veteran Richmond developer, recently completed the Scott's Edge apartments in Scott's Addition.
Johannas said the team has been meeting with local groups including the Church Hill and Shockoe Bottom neighborhood associations before submitting a permit application to the city. He said they will meet once more in October with the Church Hill group before applying for the necessary special-use permit.
The unimproved land is currently zoned for manufacturing. City records show the developers bought the land in 2012 from The Grain Co. for $600,000.
Where last year's project was proposed to be 13 stories at a higher elevation, this proposal would be 11 stories on the Dock Street side and nine stories on the side facing Cary. While concerns about impacts on views from Church Hill led to White withdrawing his project last year, Johannas said his development would be consistent with elevations along Tobacco Row.
"I think (White's project) is always going to be in the backs of people's minds," Johannas said. "This side of Pear Street is an entirely different location.
"We are physically connected to the Tobacco Row district. Our views are much, much lower," he said. "The height of our building is commensurate with the height of the warehouses in the district. And we're really in front of (Great) Shiplock Park, so the angles of views are very different."
With a ground-floor footprint of about 5,500 square feet, the building would consist of nine floors of condominiums – 15 units total – above two levels of partially underground parking.
Each floor would house two condos with an average size of 2,275 square feet. The top three floors would be reserved for full-floor penthouse-style units, each totaling 3,250 square feet. Every unit would also have a balcony.
Prices would range from $750,000 to more than $1.3 million. The developers are marketing the condos through One South Realty, which is already advertising the project as "Pear Street Tower" on its website.
"We're confident that we have a great project for the city," said Johannas, who previously partnered with One South on a cluster of townhomes in Randolph called TriBeCa. He developed those with One South associate broker Tom Rosman and his wife Michelle Rosman.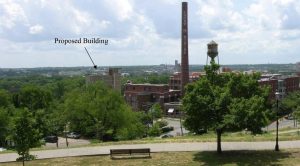 Johannas said the price range is set to appeal to the higher end of the market while also justifying the size and cost of the project.
"If we're going to build something that is over the five-story mark, and we're going to meet the development costs and use the type of quality construction that we're going to put in here, then we're just going to have to meet a different market in terms of selling it," he said.
Johannas said it is too early to put a price tag on the development's overall cost. He said a builder and financing have likewise yet to be lined up.
Should the permitting process go according to schedule, construction on the project could begin as early as next spring, Johannas said.
"To me, this building would be a great benefit to the city," he said. "All the partners feel that way, and I hope others feel the same."
Thomas Wilds, president of the Church Hill Association, said its board recommended the project to its membership when it was initially presented. He said the meeting in October is mainly to allow for more members to attend and provide for additional due diligence.
"We appreciate the developers' approach and consideration of preserving the historical nature of our community, including the view from Libby Hill," Wilds said. "At present, we have no recommendations but hope to offer something soon."
Johannas said the project would add more homeownership opportunities to the Bottom, which he said is in need of diversity in housing options. Loft apartments and other rentals in former tobacco warehouses and new construction have added housing but not homeownership, he said.
"Shockoe Bottom, right now, is primarily a monoculture of housing. Everybody is building basically the same thing," he said. "This is really going to be one of the first projects, if everything runs smoothly and we can build it on budget, that is going to bring diversity to the Bottom, and the best way to have a sustainable neighborhood is to have a diverse neighborhood."