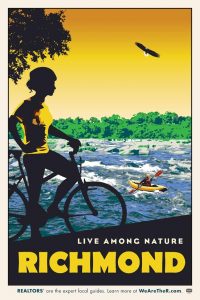 The Central Virginia Regional Multiple Listing Service released the latest in its series of promotional posters it developed with Punch. Meant to strengthen the CVRMLS brand, the marketing campaign features vintage-style travel posters that highlight different attractions in the Richmond area. A first round of posters was released last December, and nine posters are expected to be released through November.
Create Digital founder and CEO Kendall Morris was a speaker at this year's SXSWedu Conference in Austin, Texas. Her presentation, "Make It Stick: Applying Marketing to Education," was one of several sessions at the festival held March 7-10.
Neathawk Dubuque & Packett, or ND&P, has rebranded as ndp. The rebrand includes an icon called The Doodle, a kinetic sphere made from a single interwined line that's meant to represent the agency's creative culture. Signage was added to the agency's building at 1 E. Cary St., and sculptures of The Doodle ranging from 4 to 6 feet have been added to all of its offices.
Ndp won a gold and five silver awards in the 2016 Great Lakes Bay Region ADDY Awards for its work for MidMichigan Health. The gold was for a television spot called "Dr. Internet," featuring animation from Studio Flatland.
The agency also won five gold awards in the 2016 Western Virginia American Advertising Awards, including Best of Show in the print category for Universal Fibers. Other gold winners were for VCU and RIDE Solutions, the latter of which also earned ndp a spot as a finalist for an Obie Award.
Charles Ryan Associates has changed its ownership structure to include four senior managers, including two in its Richmond office, as minority owners in the company. Chief Creative Officer Matt Fidler and Chief Strategy Officer Matt Isner join CEOs Caryn Foster Durham and Susan Lavenski, who purchased the company last fall, in the new ownership structure along with Alisha Maddox and Dustin Lanning in CRA's Charleston office. Fidler and Isner have been with the firm for 18 and 16 years, respectively.
HeliumStudio launched a new website for Richard Bland College of William & Mary. The site features current students, is mobile responsive and includes photo galleries and videos, and is integrated with social networks.
OFD Consulting has added Audrey Keller to its PR team. Keller worked for the American Red Cross in Washington, D.C., and The Potomac School in McLean. OFD President Meghan Ely has also begun her tenure as director of marketing and communications for the national board of the Wedding Industry Professionals Association.
EarthCraft Virginia worked with Kelly O'Keefe of the VCU Brandcenter, PadillaCRT and Elevation on its recent rebrand as Viridiant. The Richmond-based green-building nonprofit worked with O'Keefe and PadillaCRT on brand positioning and the name, and Elevation developed a logo, graphic platform, video and promotional items.
Richmond Corporate Video was hired by Virginia Business Systems, a Richmond-based commercial office equipment company, to produce an awards video related to the company being named one of 2016's Best Places to Work in Virginia by Virginia Business. The firm was also hired by The Dominion Club to create a video for the golf and country club's sales membership drive landing page.
Creative Visual Design has added East Coast Provisions restaurant and Nick's International Foods as clients. The firm launched a website for East Coast Provisions and is developing a website for the 50-year-old Mediterranean market.
Rocket Pop Media is in final negotiations to bring Zoozil on as a client. The Richmond-based startup produces an interactive eLearning book designed for children deemed "reluctant readers." The agency has also signed children's clothing and accessories startup Rockin Baby, providing market strategy, strategic branding and market design work.
Initiate-it has hired Quincy Cherry as vice president, creative services. Cherry previously served as senior VP chief creative officer for Uniworld Group in Brooklyn, New York, where he developed digital-first content for Ford/Lincoln, U.S. Marines, Marriott, Colgate, Amtrak, CVS and Home Depot. Cherry has also worked at Matlock Advertising in Atlanta and Burrell Communications in Chicago and is a graduate of the Savannah College of Art and Design.
Lythos Studios has been retained to create and produce a digital marketing campaign for Sentryworx, a Richmond-based IT company. The firm is also providing web development for Gaston Group, a Williamsburg-based government relations and public affairs firm.
Think804 has rebranded as Think. In addition to the new name, the rebranding includes a new logo and brand marks, as well as additional marketing and media services.
CO+LAB has hired Sarah Ferrara as senior project manager. Ferrara was previously with Create Digital, where she was a program manager and account supervisor.
Madison+Main has picked up four new clients: youth soccer league FC Richmond, which is receiving PR and brand awareness work; Ashland-based water shoe and sandal company Cudas, which is receiving digital marketing to promote one of its products; Better Business Bureau of Central Virginia, which is working on several marketing initiatives; and Little Rock, Arkansas-based Knapp Law Firm, which is looking to expand into Virginia.
The agency also won a Telly Award for its PSA-style TV ad for law firm CowanGates.