What a difference a year can make.
The popular Inc. 5000 list of the nation's fastest-growing companies included 29 Richmond companies – 10 more than last year – with a higher average growth rate than last year's batch.
The 29 local companies on the list had an average growth rate of 325 percent over the three-year period between 2012 and 2015. Last year's crop on Inc. magazine's annual list had an average growth rate of 208 percent.
Those 29 companies produced a combined $694.8 million in revenue in 2015.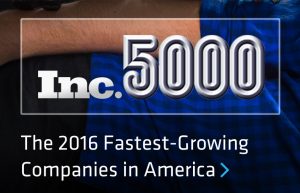 Another improvement for Richmond companies on this year's list was landing three in the top 500. The region had no companies in the top 500 last year, after having six on 2014's list.
The top ranked local company was Health Warrior, a Scott's Addition-based firm that makes nutrient-dense snacks made with Chia seeds and landed at No. 205 in the rankings. It was its first time on the Inc. list.
The firm, which grew 1,887 percent over the three-year period, was not in the Inc. rankings last year. According to the report, Health Warrior grossed about $10 million in revenue last year.
Health Warrior CEO Shane Emmett said much of its revenue stream can be attributed to the firm's Chia Bar sales, which are sold at national retailers such as Target, Whole Foods and Wegmans. The bars are also sold locally at Stella's Market and Ellwood Thompson's.
"We're selling millions of bars a month…something that's hard to believe," Emmett said.
With 90 employees (16 local) scattered across major metros throughout the country, Emmett said the firm is working to solidify its existing holdings, and diversify its offerings.
He said Health Warrior is expanding its sales teams on the West Coast and Midwest. The firm is also looking to introduce new products in the coming months, although Emmett would not disclose what products Health Warrior is contemplating.
"We're excited by our growth, and what we are accomplishing," Emmett said. "We're very lucky to be one of many companies on this list."
The other 28 local companies that made Inc.'s list this year included American Pillowcase with 1,400 percent growth and $6.5 million in revenue in 2015 to earn it the 280 spot. Owner Russell Basch said Amazon is the main artery of his bed and bath linens company, which ranked second on Richmond BizSense's RVA25 in 2015.
"I attribute almost all my success to their success," he said, adding he sells most of his product through Amazon.
Basch said recently he has added more products to American Pillowcase's line as a result of customer's requests. He'd be the one to do it – Basch is the only one on his company's payroll.
"I only put down one employee because they wouldn't let me put zero," Basch said of Inc. magazine.
In addition to fast-growing insurance sellers, corporate innovation consultants and mosquito fighters in Richmond, CapitolMac, which sells and repairs Apple products from its home in the Fan, was number 4,710 on Inc.'s list. The company had 50 percent growth between 2012 and 2015 with $2.4 million in revenue last year.
"That was basically perfect timing for us," said Capitol Mac's Dheeraj Vasishta, adding his company went from a lull period to a growth period fueled in part by the success of Apple products. "That stretch of years was what allowed us to move up the street to a store that's twice the size."
CapitolMac moved in February to 1700 W. Main St., where operations have begun as construction is still underway. The company also has locations in Baltimore and Williamsburg, though those storefronts don't do as well as their counterpart in Richmond.
"Richmond continues to be our biggest producing store," Vasishta said.
Among Richmond's Inc. 2016 class, 11 of the companies are making their first appearance on the list. IT firm CapTech Ventures made the list for the tenth time, the most of any of its local peers. Seven of the 29 local firms have been included in Inc.'s rankings five years running.
Statewide, more than 200 Virginia companies made Inc.'s list, with Leesburg-based government contractor FedBiz IT Solutions earning the highest ranking at No. 10.
The No. 1 company on Inc.'s list was Loot Crate, which sells monthly subscriptions for boxes of gadgets, art, apparel and gear that had a 66,789 percent growth rate.
BizSense reporter J. Elias O'Neal contributed to this story.
Rank
('15 Rank)
Company
Growth
('12 – '15)
2015 Revenue
(millions)
Industry
205
Health Warrior
1,887%
$9.9
Food & Beverage
280
American Pillowcase
1,400%
$6.5
Retail
462 (1145)
The Hilb Group
820%
$36.8
Insurance
603 (1648)
LeGault Homes
652%
$7.5
Construction
805 (704)
Blue Ridge Product Solutions
495%
$8.9
Retail
931
37th Parallel Properties
424%
$2.4
Real Estate
1067 (1549)
Impact Makers
366%
$17.8
IT Services
1075 (1023)
ProfitOptics
362%
$2.6
IT Services
1088 (1354)
Dietitians on Demand
354%
$4.5
Health
1191
Wellborn + Wright
327%
$3
Manufacturing
1221
IST Research
318%
$5.8
Software
1517
Brandito
250%
$3.1
Advertising & Marketing
1744 (2486)
Allegiancy
213%
$4.6
Real Estate
2062 (2126)
Taradel
181%
$10.9
Advertising & Marketing
2063
Global Sumi Technologies
181%
$2.6
IT Services
2113
Unlimited Air Mechanical
176%
$4.6
Construction
2448 (1980)
Mosquito Squad
146%
$30.2
Consumer Products & Services
2696 (2628)
The Frontier Project
130%
$4.1
Business Products & Services
3300 (2213)
TDBBS
100%
$35.8
Consumer Products & Services
3411
Cornerstone RPO
96%
$12.3
Human Resources
3483
WorldView Solutions
91%
$5
Software
3622 (3750)
Dominion Payroll Services
86%
$8.1
Human Resources
4036 (4491)
Dynamic Mobile Imaging
72%
$10.4
Health
4394 (4353)
Udig
59%
$22.3
IT Services
4442
Timmons Group
58%
$55.5
Engineering
4572
Whitlock
54%
$271.4
Business Products & Services
4710
CapitolMac
50%
$2.3
Retail
4714
CapTech Ventures
50%
$103.3
IT Services
4830 (3133)
NetSearch Direct
46%
$2.7
Advertising & Marketing