Another Richmond-area bank has hitched onto the M&A train.
Eastern Virginia Bankshares and its EVB subsidiary on Tuesday announced a deal to merge with McLean-based Southern National Bancorp in a deal valued at $178.3 million. It's at least the fourth merger or acquisition either announced or completed this year involving a local bank.
The combined company would have $2.4 billion in total assets, $2 billion in deposits and a loan portfolio of $1.8 billion. That includes EVB's $1.3 billion in assets.
It will operate using Southern National's Sonabank brand for its combined 47 branches – 24 of which come over from EVB – that will stretch from Maryland and Northern Virginia to Hampton Roads. Southern National will be the surviving name for the holding company.
The companies said their combined corporate headquarters will be in McLean, while the bank's headquarters will remain in Richmond. It's unclear whether that local headquarters will be in Innsbrook, where EVB was in the midst of relocating its corporate home base.
EVB chief executive Joe Shearin will take on the role of president and CEO of the combined company. Georgia Derrico, Southern National's current chairman and CEO, will become executive chairman. Roderick Porter, currently vice chairman and president of Southern National, will become executive vice chairman.
Messages left for Shearin and Porter were not returned by press time.
EVB shareholders will receive 0.63 shares of Southern National stock for each of their EVB shares. The deal equates to a value of $9.72 per share of EVB stock, which closed at $9.67, prior to the Sonabank transaction announcement. Both banks are traded on Nasdaq.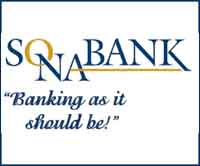 It's the second time in two years EVB has grown through M&A. In 2014, it acquired Newport News-based Virginia Company Bank, a $100 million bank in a deal valued at $9.6 million.
EVB has also been on the move in recent months. This summer it purchased a plot of land in Chester where it plans to build a new branch from scratch.
Sonabank entered the local market with the purchase of a branch in Midlothian in 2011.
The deal has been approved by each company's board of directors. It is expected to close in the second quarter of 2017, pending shareholder and regulatory approval.
The companies say they expect to realize expense reductions of 16 percent through the combination, partly due to consolidation of unspecified branch locations.
EVB hired investment banking firm Sandler O'Neill and law firm Troutman Sanders to assist in the deal. Southern National was advised by FIG Partners and Alston & Bird.
The deal marks the continuation of a busy year of mergers and acquisitions involving local banks and is part of a continuous streak of bank marriages over the last few years.
This summer, Richmond-based Xenith Bank and Midlothian-based Bank of Virginia both closed deals with out of town competitors. Last month, Petersburg-based Virginia Commonwealth Bank announced a deal to merge with Bank of Lancaster from Kilmarnock.
The deal also marks the elimination of yet another local bank brand. EVB joins Bank of Virginia, First Capital and Franklin Federal in the ranks of Richmond brands added to history books in the name of consolidation.