Local brewers and distillers can raise a glass following the failure of some legislation at the General Assembly.
A bill that proposed an increased tax on bottled liquor sales was voted down this week in the state Senate.
SB 1314 would have added an additional 1 percent sales tax on bottles sold at Virginia ABC stores. The additional money collected would have supported Virginia law enforcement personnel. Senator Bill Carrico (R-Grayson) presented the bill.
The Virginia Distillers Association opposed the bill, and its government affairs director Curtis Coleburn issued a statement after the vote.
"The Virginia Distillers Association is extremely pleased that the General Assembly has apparently found funding to address State Police pay, without singling out our industry for unfair taxation," Coleburn said.
The failure of SB 1314 wasn't the only good news for Virginia distillers.
Two bills are moving through the House and Senate that would allow distillers to more easily sell bottles of spirits at events.
Under current law, distilleries cannot sell bottles directly to consumers at events. The bottles can be sold only through Virginia Department of Alcoholic Beverage Control tables or stands manned by ABC employees.
If the bills pass, distillers could sell their products themselves, without ABC employees present.
SB 1448 was passed by the Senate. The other, HB 2029, made it out of committee in the House and awaits a full vote.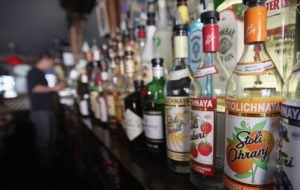 Meanwhile, the state's breweries and beer distributors watched the failure of a proposed bill that would have affected the way they market and advertise around the commonwealth.
Under current law, brewers and distributors are restricted on "point of sale advertising materials." Those materials include signs in windows of stores that sell booze, cardboard cutouts on sales floors, and so on.
The value of these materials cannot exceed $40, and can only be made of soft materials like paper, cardboard, and foam.
Sen. Tommy Norment (R-Williamsburg) introduced SB 1358, which would have increased the value allowed to $100, and added wood and metal to materials permitted. Friday morning, Norment requested the bill be left on the floor until next year, killing the legislation for now.
Virginia breweries and distributors were unified in opposition to the bill.
Phil Boykin, President and CEO of the Virginia Beer Wholesalers Association, said the legislation would have catered to big brewers and put smaller brewers at a disadvantage.
"The reason the craft guys are afraid of this, as well as my guys, the distributors, is it'll force them to spend more of their money," Boykin said.
The group says bigger brewers have bigger budgets for marketing, and the increased cap would have made it hard for smaller breweries to keep pace.
"That's less money the distributors have to promote the new brands (of craft beers). They have marketing budgets with limited dollars to spend," Boykin said. "If all of the sudden these caps are raised, that's less money they have to spend to bring new craft beers to market."
Brett Vassey, speaking on behalf of the Virginia Craft Brewers Guild, said in a statement: "The VCBG appreciates Sen. Norment's sensitivity to all parties."
Another bill that caught the attention of Virginia brewers and distributors sought to change regulations on tastings of beers and spirits.
Sen. Norment and Del. Dave Albo (R-Springfield) each proposed bills to raise the maximum amount breweries and distributors can spend on tastings outside their own facilities. Sen. Norment's bill (SB 1357) will not be voted on this year, but Del. Albo said he plans to try to pass his bill (SB 1528).
Breweries and distributors can spend up to $100 on beer for sampling at events. The proposed legislation would increase that limit to $250.
Boykin said this would again put small brewers at a disadvantage, since they don't have the budgets large breweries do.
"If you're a small brewery, you can do tastings, but the amount you can do is far more limited than a big brewery like Anheuser-Busch. This would flood the marketplace," Boykin said. "We're first and foremost looking after our distributors' interests, and our interests align with the craft brewers'."
Del. Albo said he thinks the current cap limits how brewers can market their product.
"(Brewers) asked to be able to buy more beer for tastings," Albo said.  "I think being able to buy 20 beers doesn't do anything."
Del. Albo's bill is set to be voted on later this week.
Finally, legislation affecting restaurants ability to serve liquor is still in play.
SB 970, a bill that would reduce the so-called "45 percent rule," is still alive but yet to be voted on.
SB 1216, a bill that would require bars/restaurants to serve food whenever they serve liquor has passed the Senate. It will next need to pass the House before going to the Governor.