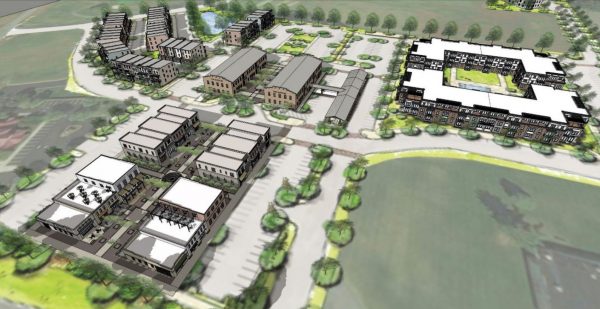 An aerial rendering of the Manakin Towne project. (Courtesy 510 Architects)
Manakin Towne project, Patterson office buildings up for votes in Goochland
Goochland supervisors meet Tuesday at 7 p.m. Full agenda here.
Public hearing items include Towne and Country Partners' Manakin Towne project, which would consist of a mix of commercial and residential uses on land west of Broad View Shopping Center at 68 Broad Street Road. The $100 million mixed-use development would include 245 residential units, and retail and office space. (Tuesday update: The board plans to defer this item to its Dec. 18 meeting.)
JSC Family LLC and Medical Development Ventures LLC seek to rezone 8 acres at Patterson Avenue and Creekmore Road to allow for six office buildings totaling 37,200 square feet. Also on the agenda, HHHunt seeks to reduce the maximum number of units in its Mosaic development near the Capital One campus from 520 to 508, increasing the percentage of permitted townhomes from 40 percent to 44 percent.
Residential project proposed near Acca Yard in Henrico
The Henrico County Planning Commission meets Thursday at 7 p.m. to review rezoning and provisional-use permit requests. The only item on the agenda is a request from Ohio-based Woda Cooper Cos. to rezone 5.2 acres at the terminus of Orville Road for a multifamily development. The property is located between Acca Yard and Staples Mill Road. The case was deferred from the commission's Nov. 14 meeting.
Shockoe Alliance group meets Wednesday
The City of Richmond's Shockoe Alliance group meets Wednesday from 6-8 p.m. at the downtown library branch, 101 E. Franklin St. The workshop-style meeting will focus on plan recommendations based on prior public input and will feature interactive group discussions on top planning priorities. Results of the meeting will serve as the basis for a draft small-area plan, slated for public review in early 2020.