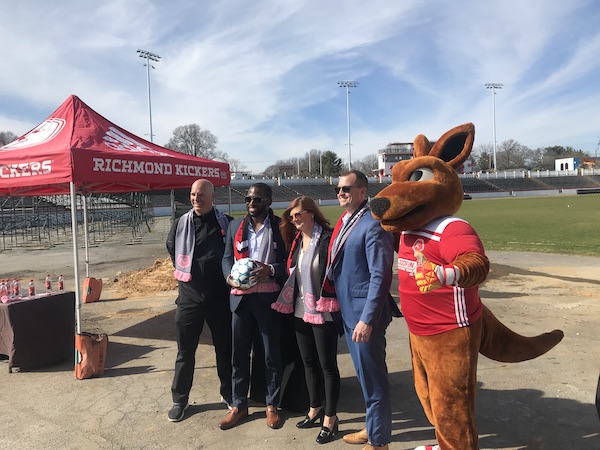 With its season opener set for later this month, the Richmond Kickers are unveiling the first of many improvements planned for its home turf south of Carytown.
The soccer club is finishing up work to improve the lighting, irrigation and sightlines in City Stadium at 3201 Maplewood Ave.
Club Chairman Rob Ukrop was joined Monday by Mayor Levar Stoney, and City Council members Stephanie Lynch and Andreas Addison, to announce the upgrades, which are scheduled to be completed ahead of the Kickers' 2020 season opener on March 28.
The work is part of a 2016 agreement the team struck to lease the city-owned stadium for 40 years and gradually pump $20 million into improving the 91-year-old facility. The first round of renovations total $2 million.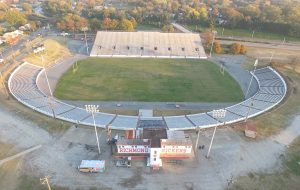 "You could've kept those dollars in your pocket or done something else (like) pay the players — who knows," Stoney said. "But you chose to improve the experience right here."
Ukrop, who is part of the group that purchased the soccer club for an undisclosed amount about a year ago, said the terms of the city lease required them to spend about $400,000 to improve the stadium by the end of 2020.
"We're ahead of schedule, which is nice, but we want to make it better every year," he said. "We want to create this incredible atmosphere where people will come out and take a chance on us."
The Kickers play in USL League One, and its matches are televised on local CBS affiliate WTVR and ESPN's streaming service ESPN+. Ukrop said the new LED lights will improve the broadcast quality.
"The lighting hadn't been replaced since 1994. Now it'll really pop on TV, which is really important for us," he said.
Ukrop said the other renovations nearing completion include burying some telecom lines, removing poles near the stands and improving the grass field's irrigation system.
Other planned upgrades include improving the main concourse, press box, signage and parking lots, as well as adding Futsal courts and minifields around the stadium.
This season, the Kickers' home matches will start typically at 6:30 p.m., which is earlier than in previous years. Ukrop hopes this will draw more millennials and younger fans to games.