A firm from the Big Apple has big plans for the site of a mostly vacant Henrico shopping center.
New York-based Aurelie Capital is planning a mixed-use development with 350 apartment units and 12,000 square feet of retail space on 16 acres at 2314 Hungary Road, where the 56-year-old Laurel Park Shopping Center currently stands.
The project, named Laurel Park in documents submitted to the county, would partly face Woodman Road and include 72 townhome-style apartments spread across a dozen buildings. The remaining 278 units are split between two buildings, one of which would be a C-shaped building wrapping around a courtyard and pool.
Each building would be three stories tall and be connected to one another with walking trails. More than 400 parking spaces are included in the plans.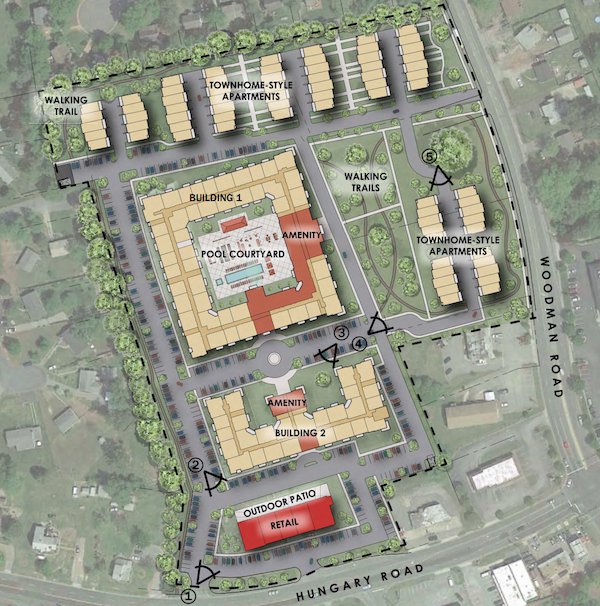 Documents on file show the retail building would have an outdoor dining patio.
Aurelie is a four-year-old firm that first got a taste for the Richmond market in 2018 when it bought the Millspring Commons apartments, a 159-unit complex located about two miles west of Laurel Park's proposed site.
Aurelie sold the Millspring apartments in February for $28.5 million and a month later purchased the Laurel Park site for $1.5 million, county records show.
"We got to know the area from (the Millspring Apartments)," said Pavan Malhotra, Aurelie's founder. "We saw the demand and thought this was great, and in an area that we believe in."
Malhotra said they'd ideally like to break ground on Laurel Park sometime in mid-2021 and complete construction the following year. But before that happens, Aurelie needs rezoning approval from Henrico County.
The land is currently zoned B-2C Business District, and Aurelie is seeking to rezone it to R-6C General Residence District. The firm is also seeking a provisional use permit that would allow commercial uses.
The project was slated to be voted on by Henrico's Planning Commission at its meeting last week, but was deferred about a month. It's now likely to be heard at the Planning Commission's Oct. 15 meeting.
Attorney Andy Condlin of Roth Jackson is representing Aurelie in the rezoning process. Poole & Poole Architecture is the project's architect.
While Laurel Park looks to get moving, a smaller project is well underway nearby at the intersection of Hungary and Woodman roads. A new-construction Dunkin' is currently being built at 2300 Hungary Road.